Govs also to play Lipscomb for the first time since 1961-62


A trip to one of the nation's top five teams and resumption of a series with Memphis highlight the 2010-11 Austin Peay State University men's basketball schedule.
Austin Peay will get a Big Ten taste early in the season when the Governors play the University of Purdue in Lafayette, IN, Nov. 23rd, as the second game of the Chicago Invitational Challenge. The Boilermakers, who were ranked 12th in the final 2009-10 ESPN/USA Today, are rated as high as second already in some 2010-11 preseason polls.
Purdue is coming off a banner 29-6 season in which it claimed a share of its first Big Ten title in 14 years and made its second-straight NCAA Sweet 16 appearance. The Boilermakers return five players who started at least 20 percent of the team's 2009-10 games. Rising senior All-Americans Robbie Hummel (15.7 ppg) and E'Twaun Moore (16.4 ppg) are back, as is two-time All-Big Ten selection and Big Ten All-Defensive Team member JaJuan Johnson (15.5 ppg).
Austin Peay opens the Chicago tourney, Sunday, Nov. 21st, with a trip up I-24/I-57 to Carbondale, IL, to face Southern Illinois. It is the first time the two teams have played since the 1995-96 season. After the tourney's first rounds are completed action will be move to Hoffman Estates, IL, and the Sears Centre Arena, an 11,000-seat facility.  The Governors will face Charleston Southern on Friday, Nov. 26th and a to-be-determined opponent, Saturday Nov. 27th.
In fact, the Chicago tourney is part of eight-game stretch that will see the Governors open the regular season (excluding two home exhibition contests) with eight straight games away from the Dunn Center.  APSU will open the 2010-11 season on the road, at Chattanooga, Nov. 15th, before traveling to Lipscomb, Nov. 18th, before the Chicago tourney.
They will kickoff December with two Ohio Valley Conference road games, Dec. 2nd at Southeast Missouri and Dec. 4th at Eastern Illinois.
Only after those games will the Governors open regular-season home play, with their return matchup with Lipscomb, Dec. 7th, and Fontbonne, Dec. 11th. 
Meanwhile, having not played Memphis the last two seasons after facing the Tigers six times between 2001-02 and 2006-07, the Governors will travel to the Bluff City, Dec. 16th. They will play a Tigers team that finished 24-10 in 2010-11 and is armed with one of the nation's best recruiting classes.
The Governors then will play two more OVC games prior to Christmas, a Dec. 18 home encounter with Eastern Kentucky and a Dec. 21st contest with Morehead State and star post player Kenneth Faried.
The Govs are scheduled to end 2009 with Brescia, Dec. 28th, before Chattanooga comes to town to kickoff 2011, Jan. 3rd, in a rematch of the season opener. From there it is all OVC games until the Feb. 19th road ESPN BracketBuster contest.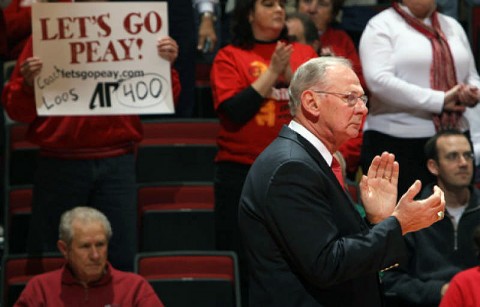 "The schedule is part of life in the Mid-Major (level)," APSU coach Dave Loos said. "It is Dec. 7th before we play a home game…and that is not ideal. But we have trouble getting home games with D-I teams so we had to agree to situations that are not perfect, but it is what it is.
"It is a challenging schedule. We certainly wanted to include some regional rivals and we got that with Chattanooga and Lipscomb. Lipscomb is going to be picked near the top or even the top of their league (Atlantic Sun)—they have a veteran club. Chattanooga is going to be strong. We have both home and home this year. In fact, I think they were going through some of the same scheduling problems we were as far as getting games so we decided to play home and home in the same year."
The Nov. 15th game against Chattanooga, previously a long-time state rival, will be the first time the two teams have met since the 2005-06 season. However, it is has been much longer since the Govs and Lipscomb have faced each other. Former foes (APSU holds a 38-26 advantage) in the old Volunteer State Athletic Conference, the two schools have not met since the 1961-62 season. In other words, this will be first time the two teams have met as NCAA Division I members. 
If scheduling has become "part of the life of the Mid-Major," so has guarantee games. The Govs will jump into it Thanksgiving Week with the Chicago tourney and later at Memphis. 
"We are in an early season tournament that has a very strong field, including Purdue and Southern Illinois, which has been good for a number of years," Loos said. "Purdue had a terrific year last year and are going to be ranked in the top five this year in the preseason.
"Memphis has a great recruiting class coming in. If Purdue is going to be in the top five but I expect Memphis to be at least ranked in the Top 25."
Austin Peay State University
2009-10 Men's Basketball Schedule
 
Day
Date
Opponent
Location
Time (CT)
November
 
Thur.
4
Central Missouri
Clarksville, Tenn.
7 p.m.
 
Mon.
8
Exhibition TBA
Clarksville, Tenn.
TBA
 
Mon.
15
at Chattanooga
Chattanooga, Tenn.
TBA
 
Thurs.
18
at Lipscomb
Nashville, Tenn.
TBA
 
Chicago Invitational Challenge
 
Sun.
21
at Southern Illinois
Carbondale, Ill.
TBA
 
Tues.
23
at Purdue
West Lafayette, Ind.
TBA
 
Fri.
26
nt. Charleston Southern
Hoffman Estates, Ill.
TBA
 
Sat.
27
nt. TBA
Hoffman Estates, Ill.
TBA
December
 
Thurs.
2
at Southeast Missouri ?
Cape Girardeau, Mo.
TBA
 
Sat.
4
at Eastern Illinois ?
Charleston, Ill.
TBA
 
Tues.
7
Lipscomb
Clarksville, Tenn.
7 p.m.
 
Sat.
11
Fontbonne
Clarksville, Tenn.
7:30 p.m.
 
Thurs.
16
at Memphis
Memphis, Tenn.
TBA
 
Sat.
18
Eastern Kentucky ? 
Clarksville, Tenn.
7 p.m.
 
Tues.
21
Morehead State ?
Clarksville, Tenn.
7:30 p.m.
 
Tues.
28
Brescia
Clarksville, Tenn.
7 p.m.
January
 
Mon.
3
Chattanooga
Clarksville, Tenn.
7 p.m.
 
Thurs.
6
at Tennessee-Martin ?
Martin, Tenn.
TBA
 
Sat.
8
at Murray State ?
Murray, Ky.
TBA
 
Sat.
15
at Tennessee State ?
Nashville, Tenn. †
TBA
 
Thurs.
20
Tennessee Tech ?
Clarksville, Tenn.
7:30 p.m.
 
Sat.
22
Jacksonville State ?
Clarksville, Tenn.
7:30 p.m.
 
Thurs.
27
at Eastern Kentucky ?
Richmond, Ky.
TBA
 
Sat.
29
at Morehead State ?
Morehead, Ky.
TBA
February
 
Thurs.
3
Tennessee-Martin ?
Clarksville, Tenn.
7:30 p.m.
 
Sat.
5
Murray State ?
Clarksville, Tenn.
7:30 p.m.
 
Mon.
7
at Tennessee Tech ?
Cookeville, Tenn.
TBA
 
Sat.
12
Tennessee State ?
Clarksville, Tenn.
7:30 p.m.
 
Tues.
15
at Jacksonville State ?
Jacksonville, Ala.
TBA
 
Sat.
19
at ESPN Bracketbuster
TBA
TBA
 
Thurs.
24
Eastern Illinois ?
Clarksville, Tenn.
7:30 p.m.
 
Sat.
26
Southeast Missouri ?
Clarksville, Tenn.
7:30 p.m.
March
 
2011 Ohio Valley Conference Men's Basketball Championship
 
Wed.
2
First Round
Nashville, Tenn.
5/7 p.m.
 
Thurs.
3
Quarterfinals
Nashville, Tenn.
5/7 p.m.
 
Fri.
4
Semifinals
Nashville, Tenn.
5/7 p.m.
 
Sat.
5
Championship
Nashville, Tenn.
TBA
 
2011 NCAA Division I Men's Basketball Championship
 
F-Sa
17-18
First Round
TBA
TBA
 
Su-M
19-20
Second Round
TBA
TBA
 
F-Sa
24-25
Regional Semifinals
TBA
TBA
 
Su-M
26-27
Regional Finals
TBA
TBA
April
 
2011 NCAA Division I Men's Basketball Championship
 
Sat.
2
National Semifinals
Houston, Texas
TBA
 
Mon.
4
National Championship
Houston, Texas
TBA
? – Ohio Valley Conference contest, † – game played at Municipal Auditorium