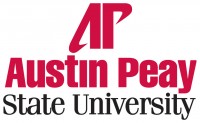 Clarksville, TN – Elementary and middle school teachers will participate in a conference that will focus on strategies for integrating science, technology, engineering and mathematics (STEM) principles into instruction in grades K-8.
The conference will be held Saturday, October 2nd in the Claxton Building at Austin Peay State University.
Keynote speaker will be Michael Wilson, manager of the APSU Geographical Information Systems (GIS). His talk will focus on ways K-8 students can display experimental or research data.
Presentations will be made by teachers who attended the intensive STEM education program, sponsored by a non-competitive Congressional Award made to APSU and held during June 2010.
Presenters will be Heather Ayers, Liberty Elementary School; Jeremy Cecil, Kathy Kolb and Patricia South, Moore Science Magnet School; Amy Castleberry, Pleasantview Elementary School; Jason Pierschbacher and Jennifer Burch, Kenwood Middle School; Patricia Smajdek, Byrns Darden Elementary School; Katie Hackette, Barkers Mill Elementary School; Mary Jon Hadley, Cumberland Heights Elementary School; and Dr. Sheila Pirkle, APSU-STEM Center.
The Clarksville Sunrise Rotary Club is a co-sponsor, providing materials for the event, along with the support for the non-competitive grant award to the APSU College of Education from the U.S. Congress in 2009. Dr. Rebecca McMahan directs the Congressional Award.
For more information, call Dr. Sheila Pirkle, director of the APSU-STEM Center, at 931-221-7055.
Sections
Education
Topics
APSU, Austin Peay State University, Barkers Mill Elementary School, Byrns Darden Elementary School, Cumberland Heights Elementary School, GIS, Kenwood Middle School, Liberty Elementary School, STEM