…Helping pets in foster care to start off the New Year on just the right paw!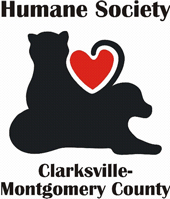 Clarksville, TN – With the hustle & bustle of Christmas behind us, our 2010 Santa Paws program invites YOU to purchase items for pets awaiting homes in our foster program (and perhaps take advantage of some after-Christmas sales, too!!).
Santa Paws sponsors can donate funds or purchase items for any Clarksville Humane Society foster pet through Saturday, January 8th.
We have 30 pets awaiting homes in the Humane Society of Clarksville-Montgomery Co.'s foster program this holiday season.
Please help us ensure each foster pet has a gift under the tree!
You can view all foster pets wish lists.
All you do is select one of our current adoptable pets at the link above, and shop for their wish list or donate through Paypal (or a check is good too). Please send an email to and let us know what foster pet you are going to be Santa Paws for.
Please deliver your gifts to our Admin office (940 Tennessee Avenue)  no later than 2:00pm on January 8th, to ensure all items can be delivered to foster families beginning Monday, January 10th. Please mark the bags or boxes with the name of the foster pet you have chosen so they are given to the proper foster family.
Admin Office
The administrative offices are located at 940 Tennessee Avenue.

Hours
Mon-Tues-Fri-Sat: 9:00am-2:00pm
Wed-Thurs: 4:30pm-7:30pm
Sun: Closed
For The Holidays
For every dog searching trash cans for breakfast, a filled bowl with his name printed in bright letters.

For every dog who did not sleep fitfully last night, chained unmercifully in a frozen yard, a soft, warm bed with a person snoring gently nearby.

For every shelter dog, spending Christmas morning in a shamefully soiled run, a forever home filled with sounds and smells of a loving family.

For every "Christmas" pup given thoughtlessly as a "present" today, a tolerant, caring owner who won't abandon you as you grow into a real dog.

For every ailing pet, enough money for your owner to pay the bills to make you well.

For every lost dog, a clear, safe road and well marked path to lead you home.

For every old and tired friend, a warm fire and soft bed to ease your aches and pains.

For every Dog at the rainbow Bridge, a moment when you know that you are remembered today, missed again and loved forever, that a loving God has a special place for you with Him, until your owner arrives to meet you in His heavenly home some day.

-Author Unknown