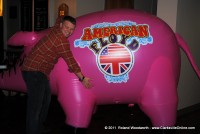 Clarksville, TN – American Floyd put on a great show at Austin Peay State University's Music/Mass Communications Building here in Clarksville on Friday and Saturday Night. I was able to attend the Friday evening show.
The concert opened with chopper sound effects and then led into Pink Floyds Brick in the Wall and the video playing behind the stage on a 40 foot screen that tied it all together. Along with great music, the light and laser show was awesome. At one point while the show was jamming inside the fire alarms were triggered outside the concert hall, as the mist from the fog machines spread through the building. Of course there was no danger to anyone inside the show.
American Floyd is a Pink Floyd tribute band that features Mark Hawkins on the guitar and lead vocals, Vocals, Phillip Neal on the Keyboard and Lead Vocals, Steve Ross on the bass guitar, Michael Whitney on drums, Dennis Shepard on the steel guitar, and Brandon Hester on the Keyboard, and Phil Kensie on Saxophone. The back up singers are Anne Marie Brown, Cherry Cole and Bonnie Lavender
If you're a Pink Floyd or Classic Rock fan, this band that you will not want to miss  if you get the chance to see them perform live.
Photo Gallery
About Roland Woodworth
My name is Roland Woodworth, a professional REALTOR® with the experience & knowledge to assist you with all your real estate needs. My main area of focus is Clarksville TN , Oak Grove KY and the surrounding areas. I have over 12 years experience in the Real Estate industry and I'm a full time Realtor licensed in both Tennessee and Kentucky. I'm also a NAR Certified Short Sale & Foreclosure Resource.

I moved to Clarksville while stationed in the US Army at Ft Campbell, KY in 1992. I have been in sales in the area since 1996. I received my Real Estate license in 1999.   I have been involved in many community organizations including the Clarksville Area Chamber of Commerce where I was a Chamber Ambassador for 5 years. I was the Fair Chairman for the 2002 North Tennessee State Fair in Clarksville, TN, and also president of Fair Inc which is the governing board consisting of members of the Clarksville Jaycees, City of Clarksville and Montgomery County. I'm  also a member of the Clarksville Jaycees Volunteer Col. Corp. a past member of the Clarksville Jaycees and the Downtown Kiwanis Club. I participated in the 2005 and 2009 Clarksville Extreme Makeover Home Edition builds here in Clarksville – Montgomery County.

Web Site: http://www.ClarksvilleHomeInformation.com
Email:
Sections
Arts and Leisure
Topics
American Floyd, Austin Peay State University, Concerts, Pink Floyd