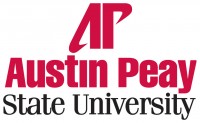 Clarksville, TN – Students scheduled to graduate in May from Austin Peay State University will have an opportunity to participate in Grad Finale, an event designed to make sure all preparations have been made for spring commencement.
Grad Finale will be from 2:00pm-6:00pm, February 28th and from 10:00am-2:00pm, March 1st. Both sessions will be in the Morgan University Center Ballroom.
Students need to bring a form of identification, including their student I.D. or driver's license, with them to this event.
The following offices will provide information at Grad Finale:
The Office of the Registrar will answer questions regarding completion of degree requirements, honors, diplomas and transcripts. A student's eligibility for graduation also will be checked.
The Office of the Bursar will be accepting graduation fee payments and also answering questions you may have related to account balances. Graduation fees are as follows: $25.00 for associate degrees, $30.00 for bachelor's, $35.00 for master's. You may pay your graduation fee anytime before this event at the cashiers' window in the Browning Administration Building. If you do so, please remember to bring your receipt in order to pick up your cap and gown from the Bookstore booth in the Ballroom.
The Senior Exit Exam is mandatory for any student receiving his or her first bachelor's degree. Registration for the exam will be offered.
The University Bookstore will have caps and gowns available for pickup when the student presents his or her Business Office receipt for the graduation fee. The store also will be selling honors cords and master's candidate hoods. Cords are $12.99, except summa cum laude cords, which are $19.99. Master's candidate hoods are $30.00 each. Cash and check only will be acceptable at the Bookstore booth in the MUC Ballroom (no credit cards).
The Office of Student Financial Aid will answer questions about financial matters such as student loan repayments.
The College of Graduate Studies will assist students receiving graduate degrees and provide future graduate students with information about APSU graduate programs. Future graduate students are encouraged to stop by the Graduate Education Event between 10:00am and 2:00pm, Tuesday, March 1st in MUC 303/305 to learn about APSU graduate programs and enter to win an iPad.
The Career Services Office will answer questions about job search assistance, transitioning from academics into the workforce, résumé writing aid and mock interview opportunities.
The National Alumni Association and Alumni Ambassadors will welcome students as APSU alumni. The Governors Club will offer information about membership.
The Office of Enrollment Management and Academic Support will answer questions about commencement, scheduled for Friday, May 6th in the Dunn Center.
The offices of Student Affairs and Student Life and Leadership will hand out graduation gift bags at Grad Finale instead of at the actual Commencement Ceremony.
Student Publications will shoot photos of graduates for both the yearbook and the video screens at graduation.
Jostens will have graduation items for purchase including announcements and invitations. Students may place orders for class rings.
In addition, door prizes will be given away, and refreshments will be provided.
For more information about Grad Finale, contact the Office of Enrollment Management and Academic Support by telephone at 931-221-6540.