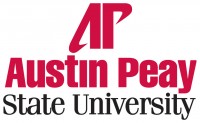 Clarksville, TN – The next Provost Lecture Series at Austin Peay State University will feature an Austin Peay State University professor and ichthyologist whose research is centered on the challenges of documenting and describing fish diversity.
Dr. Rebecca Johansen, assistant professor in the APSU Department of Biology and principal investigator in the Center of Excellence for Field Biology, will speak at 3:00pm, Thursday, February 24th in the Morgan University Center, Room 303. The event is free and open to the public.
The title of her talk is "The Challenges of Describing Biodiversity: Examples from North American Darters."
Johansen joined the biology faculty of APSU in 2009. As an ichthyologist, her research encompasses a variety of topics, from ecology and biogeography to population genetics and conservation of freshwater fishes, but is primarily centered on the challenges of documenting and describing fish diversity. 
Over the past five years, Johansen has presented more than 15 papers or posters of her research at international and regional scientific meetings and has been invited by several societies and universities to give seminars. Her research has been published in several international, peer-reviewed journals.
Since coming to APSU, she has continued her efforts to document and describe the diversity of North American freshwater fishes and has four graduate and several undergraduate students participating in her research program. She has published two manuscripts and has worked with colleagues and students to submit seven grant proposals, including one submitted to the National Science Foundation (NSF).
Currently, she is working with other Center for Field Biology faculty to develop a second NSF proposal to improve the space and important research collections of the David Snyder Vertebrate Museum at APSU. As part of this effort, along with her students, she is curating and databasing the fish collections housed in the museum. In 2010, Johansen received support through the Summer Research Fellows Program to gather additional data that will be used to describe as many as 15 new species of fishes from the southeastern U.S.
Johansen earned her B.S. and M. S. in biology from Eastern Kentucky University in Richmond in 1998 and 2001, respectively, and a Ph.D. in ecology and evolutionary biology from Tulane University in New Orleans, LA, in 2007. For both her thesis and dissertation research, she examined the patterns of evolution and species diversification in the Fantail Darter species complex, which has been termed the largest remaining taxonomic problem in North American freshwater fishes.
After completion of her Ph.D., Johansen was awarded a highly competitive postdoctoral associate position at the Florida Museum of Natural History at the University of Florida in Gainesville, where she worked with colleagues and students for two years to describe a new species of catfish and three new federally endangered species of small, stream fishes called darters. Her work on catfishes was part of a larger NSF-funded All Catfish Species Inventory Project designed to document and describe the global biodiversity of catfishes.
The Provost Lecture Series seeks to foster a spirit of intellectual and scholarly inquiry among faculty, staff and students. The program will be used as a platform for APSU faculty members who are recent recipients of provost summer grants, who have been awarded faculty development leaves and who have engaged in recent scholarly inquiry during sabbatical leaves.
APSU faculty members with recent research of acclaim also will be given a platform within this series. In addition, other faculty members of local or widespread renown will be invited to lecture within this series.
For more information about the Provost Lecture Series, call Dr. Brian Johnson, assistant vice president of academic affairs at APSU, at 931-221-7992 or e-mail him at johnsonb@apsu.edu.