APSU Men's Baseball

Clarksville, TN – Austin Peay State University's baseball team will look to overcome a midweek slump with a pair of games in the Riverview Classic, beginning at 3:00pm, Friday against Eastern Michigan, followed by a 2:30pm, Saturday tilt with Alabama A&M.

Eastern Michigan and Alabama A&M will square off with each other twice during the Classic; the first coming at 11:00am, Saturday as the opener to a doubleheader. The final game will be a 1:00pm, Sunday contest.

The Govs dropped a pair of midweek games at Mississippi, including a 5-4, 10-inning, loss on Tuesday. Wednesday's 11-3 defeat came after the Rebels scored eight runs in the first two innings; three Govs relievers would go on to limit Ole Miss to only five hits the rest of the way.

Now with six games played in the young season, head coach Gary McClure finds assurance in the play of his newcomers, but more so in the potential he sees in his pitching staff. In fact, four Govs have started on the mound – senior Ryne Harper, junior Jack Snodgrass, sophomore Zach Toney and freshman Alex Belew – combining for a 4.50 earned run average and a 26-to-18 strikeout-to-walk ratio.
"We've still got a ways to go before we know where everyone's going to fit," McClure said. "I think we can pick four or five guys and then put a few in the bullpen, maybe in a closing role, and we'll be able to solidify some things. We've got a lot of guys throwing the ball pretty well."
The Govs bullpen also features decent depth, led by senior right-hander Mark Allen Bounds, who has 1.80 ERA in four appearances. A pair of junior right-handers, Mike Hebert and Zane Effew, also have three appearances each out of the pen.
A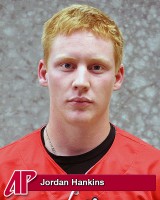 ustin Peay's offense has put up tremendous numbers through the first six games, led by freshman Jordan Hankins who is batting an astronomical .696 (16-of-23) with a team-best 10 runs-batted-in. Two other Govs also are hitting over .400; sophomore outfielder Michael Blanchard (.455) and freshman outfielder Rolando Gautier (.435).
Sophomore John Hogan leads the Govs with a pair of home runs, while sophomore Cody Hudson has a team-best five stolen bases. Overall, the Govs coaching staff has seen a number of players that have been able to perform in a variety of roles. It's that type of mentality that has McClure excited about the prospects of this Govs edition.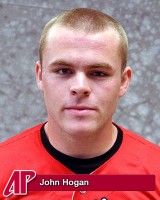 "It's a lot easier making a lineup out that it has been the past couple of years," McClure said. "There are more choices and that's a good thing. Competing is what it's all about and having to compete in practice in order to compete on the field, is practice in doing that.
"I like the way they approach it and the way they go hard every day. We have some talented kids and some kids that get the most of their ability."
Eastern Michigan (5-4) opened its season with four-straight wins before suffering its first loss in the series finale at Tennessee Tech. The Eagles have since loss three of four, but picked up a 7-6 win at No. 4 Clemson after Corey Chaffins pitched 3.1 innings of relief to take advantage of a seventh-inning run scored on a wild pitch.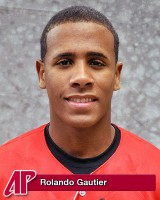 "Eastern Michigan is a good club," McClure said. "They're going to be a formidable opponent. I think they'll play a lot like Illinois State. They'll be solid in their league and if we can beat them, it will be a good win for us."
Zack Leonard leads four Eagles hitting over .300 with a .361 clip. He also is one of three EMU players already to reach double-digit hits. However, the Eagles have been outscored by 11 runs and the pitching staff brings a 5.92 ERA into the weekend.
Alabama A&M (1-7) picked up an opening weekend win against Florida A&M, but have struggled to put runs on the board since. In fact, the Bulldogs have scored only five runs in the past six games, As a team, AAM is hitting .202, led by Kency Duarte's .391 average. Pitching-wise, two starters Joshua Blocker and Sanchez Tucker, account for 28.0 of the team's 56.1 innings pitched.
"Alabama A&M is a program that hasn't been that strong in the past," McClure said. "We'll have to go out and play well, because this is baseball. You compete against yourself a lot and we've got to worry about Austin Peay right now."
Sections
Sports
Topics
Alabama A&M, Alex Belew, APSU, APSU Men's Baseball, Austin Peay State University, Bulldogs, Clemson, Cody Hudson, Eagles, Eastern Michigan, Florida A&M, Gary McClure, Governors, Jack Snodgrass, John Hogan, Jordan Hankins, Mark Allen bounds, Michael Blanchard, Mike Hebert, Ole Miss, Rolando Gautier, Ryne Harper, Tennessee Tech, Zach Toney