Clarksville, TN – On August 11th, around 7:15pm, officers responded to a Paddy Run Road residence in reference to a vehicle burglary. The homeowners had parked their vehicle on the road, unlocked with the windows down, while they mowed the yard. 
They saw several individuals watching them while they were mowing and decided to check their vehicle. When the vehicle was checked, a purse which was previously inside the vehicle was found laying on the ground and the wallet from the purse was still inside of the vehicle but had been open.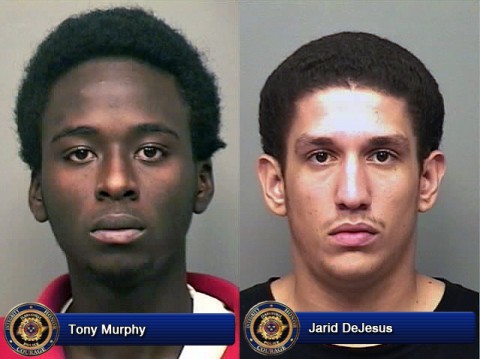 The homeowners had both seen a male, Tony Murphy, walking from the driver side as they approached to check the vehicle and not seen anyone else near the vehicle.
While officers were on scene taking Tony DeWayne Murphy into custody for burglary a disturbance broke out between neighbors at a nearby residence. Officers John Matos and Monica Westbrook approached the group to quell the disturbance and disperse the group.
The group started to verbally assault the officers and were once again asked to disperse. As one man, Jarid Edward DeJesus, was walking away and about 10-15 feet from his front door, he told officers, "I'm going to get a chopper (slang for AK-47), and take care of y'all".
Due to the aggression displayed by DeJesus when officers had contact with him, they believed the threat may have been credible, were in fear for their safety, and took him in custody.  
Tony Murphy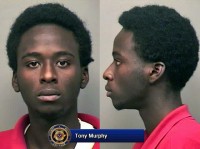 Name: Tony DeWayne Murphy (B/M)
DOB: 2-7-93
Given Address: 1239 Cobblestone Drive, Clarksville TN
Arresting Officer: Eric Ewing
Charged With: Burglary
Booked Into: Montgomery County Jail
Bond: $5,000.
Jarid DeJesus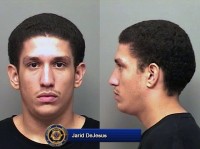 Name: Jarid Edward DeJesus (B/M)
DOB: 9/29/92
Given Address: 7 Gettysburg Street, Clarksville TN
Arresting Officer: John Matos
Charged With: Two Counts of Aggravated Assault
Booked Into: Montgomery County Jail
Bond: $2,000.