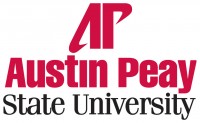 Clarksville, TN – A little more than 50 years ago, professor Melburn Mayfield founded the physics department at Austin Peay State University. Only a handful of students at first made their way into these classrooms on campus, but with the help of two distinguished professors – physics chairs Sara Wood-Boercker and Dr. Robert Sears – Mayfield's small labor of love grew into the largest undergraduate physics department in Tennessee.
Last Saturday, friends and alumni gathered at the APSU Morgan University Center to celebrate Mayfield's 90th birthday and to unveil a new campaign – The Mayfield, Wood-Boercker, Sears Endowment – that will allow the physics department to prosper for years to come. The endowment, funded by private donations, will provide scholarships for deserving, hardworking physics students.
"The endowment has been established in the name of three former chairs of the department, who were all well known for going above and beyond in helping students in financial need," Dr. Alex King, current APSU physics and astronomy department chair, said. "This endowment will allow the department to continue that tradition."
Saturday's celebration demonstrated just how strong of a legacy these individuals created while at APSU. About 160 people, representing some five decades of physics department faculty members and graduates, attended the event. They came to honor their former professors and to reconnect with close friends they made from their time at APSU.
Carlton Flatt, a 1965 physics graduate and Tennessee's winningest high school football coach, paid tribute to Mayfield, and state Rep. Joe Pitts delivered a special proclamation that set August 24th, Mayfield's actual birthday, as Mel Mayfield Day.
Pat McCullough ('64), the first female physics graduate at APSU, spoke of her admiration for Wood-Boercker, and Dr. Jaime Taylor, a 1990 physics graduate and current dean of the APSU College of Science and Mathematics, delivered a tribute to the late Dr. Sears.
"All those things that we value as human beings, the 'stuff' we always say we are going to become better at, he just did them," Taylor said.
But one of the highlights of the afternoon was the announcement by Jim Roe ('65) of the creation of The Mayfield, Wood-Boercker, Sears Endowment. The endowment will continue to honor the strong legacies forged by these three former physics chairs while providing opportunities for future students. The APSU Advancement Office is currently accepting pledges and donations to help fund the endowment's scholarships.
For more information, contact the Advancement Office at 931.221.7127.