Contributed by Meredith Gildrie from the Friends of Dunbar Cave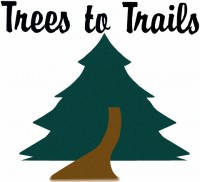 Clarksville, TN – On a crisp but sunny Sunday afternoon (January 8th), Cub Scouts from Pack 534 arrived at Dunbar Cave State Natural Area with a mission. They had volunteered to take decorations including tinsel off Christmas trees, so the trees could be mulched and used on the park's trails.
A couple members of Friends of Dunbar Cave joined them to explain the process and lend a hand, but the bulk of the work was done by the boys and their families. What an energetic bunch! They pulled trees off and out of the drop-off pile, cleaned them, and dragged the clean ones to the to-be-mulched pile where they heaved the trees into the pile. Most often that last step was left to parents, especially the fathers, since the pile rose to over six feet in places.
What a feat! Those trees were taller than every Cub Scout there, some by 3 or 4 feet. When one was too heavy, there was always someone (or a couple someones) to lend a hand. About 15 of the trees had tinsel on them, so a group gathered when one was found and worked steadily (often for 20-30 minutes) to clear away all the tinsel. And yet, the job got done with laughter and a few high jinx for fun.
After just two hours about 1200 cubic feet of de-decorated trees were waiting for mulching. All that was left to do was a little sweeping up of debris.
The Friends of Dunbar Cave couldn't have had a better crew to do this job. Their admiration and thanks goes to Pack 534.
Photo Gallery
Sections
Arts and Leisure
Topics
Dunbar Cave State Natural Area, Dunbar Cave State Park, Friends of Dunbar Cave, Trees to Trails