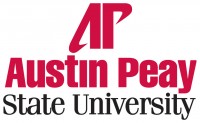 Clarksville, TN – Centuries ago, before the appearance of printed books, stories and personal histories were set down on meticulously hand-embroidered fabrics. It's little wonder then that the word "text," which originated around the 14th century, was derived from the Latin word "textus," which loosely means "to weave."
The connection between the two words is the subject of a fascinating new art exhibit at Austin Peay State University's Trahern Gallery – "Text and Textiles (A SAMPLER)."
The exhibition opens with a reception from 5:00pm to 7:00pm on February 13th. Curators Cynthia Marsh, APSU professor of art, and Paul Collins, Trahern Gallery director, intend to present works by contemporary artists that have referenced the historic and/or vernacular use of text and textiles into their creative practices.
"Many contemporary artists that use materials and techniques relating to historic fabric design, also use text as an important element in their work," Marsh said. "Quilts, for example, have a long history of using text for various political or documentary purposes."
The Text and Textiles exhibit runs through February 29th and is free and open to the public. For more information, contact Collins at .
Sections
Arts and Leisure
Topics
APSU, APSU Trahern Gallery, Austin Peay State Univdrsity, Clarksville TN, Cynthia Marsh, Paul Collins