APSU Sports: Austin Peay Men's Tennis

Clarksville, TN – Austin Peay State University men's tennis team shutout regional rival Western Kentucky, 7-0, Friday afternoon, at the Governors Indoor Tennis Center.
It was Austin Peay's second-straight win over a regional team after defeated Belmont, 5-2, January 25th. The young Govs seem to be responding well to head coach Malik Tabet's strategy, playing seamless tennis against a Western Kentucky team they have now won consecutive matches against.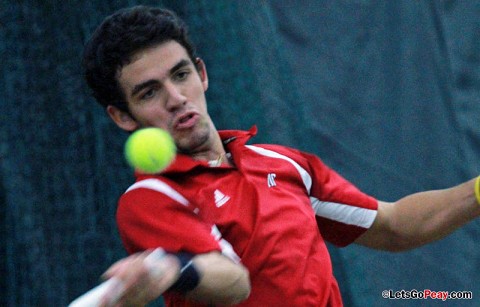 The Govs won a relatively quick doubles point. Sophomore Jasmin Ademovic and freshman Iago Seffrin got into trouble at No. 2, but were able to win a tiebreaker to complete the sweep.
"We played a good match today," Tabet said. "I think this will put us in a good place heading into a tough match on Sunday. I thought we played a little backwards at Nos. 2 and 3 doubles, but we got it together at the end and pulled out the result."
In singles action, Austin Peay played smooth tennis at all six positions. Ademovic won his second-straight match at No. 1 singles, while junior Sean Bailey did the same at No. 2. Freshman Dimitar Ristovski picked up a straight-set win at No. 3 singles against J.T. Closi while Seffrin had to grind out a tiebreak win at No. 4.
Austin Peay's depth proved to be too much for the Hilltoppers as they rounded out the match with wins at Nos. 5 and 6 from Aleksas Tverijonas and John Storie.
"The guys are coming along very nicely," Tabet said. "They're making the right adjustments and that showed in today's match. When we got down, or found a weakness, we were able to capitalize on it. We'll get better at that the more matches we play."
After having nearly two weeks without a match, the Govs bounce right back with an 11:00am, Sunday match against UAB.
Austin Peay 7, Western Kentucky 0
Singles competition
1. ADEMOVIC, Jasmin (APSU) def. Josh Smith (WKUM) 6-1, 6-3
2. BAILEY, Sean (APSU) def. Craig Kirchgessner (WKUM) 6-2, 6-1
3. RISTOVSKI, Dimitar (APSU) def. Lance Freeman (WKUM) 6-3, 6-1
4. SEFFRIN, Iago (APSU) def.J.T. Closi (WKUM) 7-5, 2-6, 10-3
5. TVERIJONAS, Aleksas (APSU) def. Arul Selvan (WKUM) 6-2, 6-2
6. STORIE, John (APSU) def. Brody Freeman (WKUM) 6-3, 6-7 (6-8), 12-10
Doubles competition
1. BAILEY, Sean/RISTOVSKI, Dimitar (APSU) def. Josh Smith/J.T. Closi (WKUM) 8-2
2. ADEMOVIC, Jasmin/SEFFRIN, Iago (APSU) def. Lance Freeman/Craig Kirchgessner (WKUM) 9-8 (7-3)
3. STORIE, John/TVERIJONAS, Aleksas (APSU) def. Arul Selvan/Andrew Fish (WKUM) 8-5