APSU Sports: Austin Peay Men's Tennis

Morehead, KY – Austin Peay State University men's tennis earned the No. 2 seed in the upcoming Ohio Valley Conference Tennis Tournament, defeating Morehead State, 4-0, in the regular-season finale.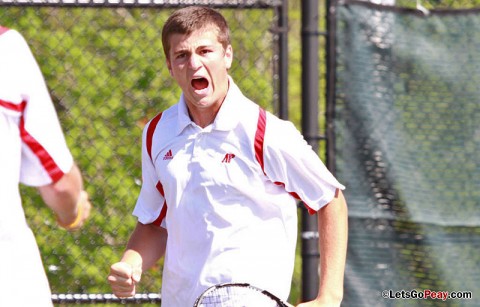 The Govs finished with a 7-1 league record, the only loss coming at Tennessee Tech, which finished undefeated and will be the No. 1 seed.  Austin Peay will face the winner of No. 4 Jacksonville State and No. 5 Morehead State, 10:00am, Saturday.
Austin Peay dealt with Morehead State in expedited fashion. Junior Sean Bailey and freshman Dimitar Ristovski finished 5-3 at No. 1 doubles with an 8-6 win, while junior John Storie and sophomore Jasmin Ademovic also improved to 5-3 at No. 2 doubles.
After winning the doubles point, the Govs won three singles matches to wrap it up. Freshman Aleksas Tverijonas won in straight sets at No. 4 singles to close out a perfect 7-0 OVC record. Ristovski improved to 7-1 in league play with a win at No. 3 singles and freshman Iago Seffrin won at No. 6 singles.
With the Govs winning four points, three matches were left unfinished; Bailey at No. 1, Ademovic at No. 2 and freshman Michal Hriciste at No. 5.
Austin Peay 4, Morehead State 0
Singles competition
1. HARLOW, Justin (MOR-M) vs. BAILEY, Sean (APSU) unfinished
2. CLIFFORD, David (MOR-M) vs. ADEMOVIC, Jasmin (APSU) unfinished
3. RISTOVSKI, Dimitar (APSU) def. MARTIN, Nathan (MOR-M) 6-1, 6-2
4. TVERIJONAS, Aleksas (APSU) def. DELIGNY, Kevin (MOR-M) 6-1, 6-0
5. WHITE, Roger (MOR-M) vs. HRICISTE, Michal (APSU) unfinished
6. SEFFRIN, Iago (APSU) def. ALMONTE, Hugo (MOR-M) 6-2, 6-1
Doubles competition
1. BAILEY, Sean/RISTOVSKI, Dimitar (APSU) def. HARLOW, Justin/ALMONTE, Hugo (MOR-M) 8-6
2. STORIE, John/ADEMOVIC, Jasmin (APSU) def. WHITE, Roger/DELIGNY, Kevin (MOR-M) 8-3
3. MARTIN, Nathan/BLUM, Nathan (MOR-M) def. HRICISTE, Michal/SEFFRIN, Iago (APSU) 8-4