A 38 year old woman is charged with False Report after recanting her claim of being assaulted on two separate occasions.

Clarksville, TN – On November 13th, 2012, around 5:30pm, Patracenni Wills told Clarksville Police Officer Jeff Derico that she had been assaulted on two separate occasions by her live in 29 year old boyfriend and had not reported the incidents to police because she had been threatened with further harm.
The incidents occurred on November 8th and November 10th.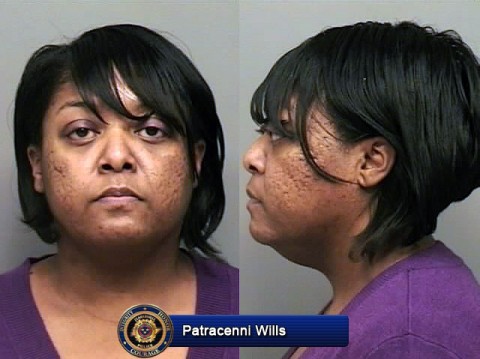 She alleged on the 8th, her boyfriend had slammed her head on the floor and slapped her, causing her lip to bleed. On the 10th, supposedly she had been choked.

Officer Derico was shown pictures by Wills detailing the injuries resulting from the alleged assaults. When the report was taken, the suspect was not present and left the Clarksville area.

Warrants were secured for Domestic Simple Assault and Aggravated Assault. The 29 year old man was booked into Montgomery County Jail on November 14th.

Shortly after the report was completed and the suspect was taken in custody, Wills started to back track and attempted to have the charges dropped.

On November 29th, during a meeting in preparation for the court case, Wills recanted her allegations, admitted to being untruthful about the assaults, and had claimed the assaults to get back at her boyfriend because he cheated on her.

On November 29th, 2012, Patracenni Wills was booked into the Montgomery County Jail.
Patracenni Wills
Name: Patracenni Wills
Race: B
Sex: F
DOB: 11/29/73
Given Address: 214 Al Oerter Drive, Clarksville, TN
Arresting Officer: Donovan Newlove
Charged With: False Report
Booked Into: Montgomery County Jail
Bond: $2,000
Sections
News
Topics
Aggravated Assault, Al Oerter Drive, Bond, Clarksville Police Department, Clarksville TN, CPD, Domestic Simple Assault, Donovan Newlove, False Report, Jeff Derico, Montgomery County jail, Patracenni Wills, Warrants