APSU Sports: Austin Peay Men's Tennis

Clarksville, TN – Austin Peay State University men's tennis team ran its winning streak to four matches with a 5-2 victory against Lindsey Wilson College, Saturday, at the Austin Peay Tennis Center.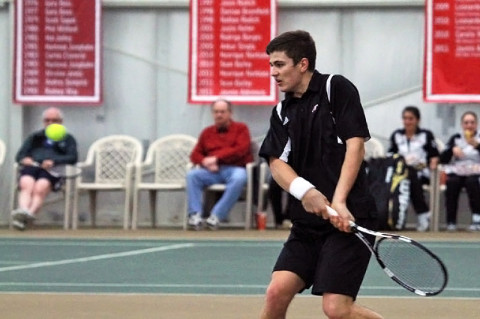 After losing its first two matches during the dual spring season, Austin Peay now resembles the team picked to win the Ohio Valley Conference in the preseason coach's poll. The four match win streak is the Govs longest since Austin Peay's five-match run, March 16th-April 7th 2012.
In his return from injury, senior Sean Bailey put together a strong performance. He defeated Fabricio Morales (6-0, 4-6, 5-0 ret.) in No. 2 singles and teamed with junior Jasmin Ademovic for a swift 8-4 decision over Fernando Bogajo and Francisco Charters in No. 1 doubles.
Dimitar Ristovski also had victories in singles and doubles against the Blue Raiders. He dispatched Marlon Dal Pont, 6-4, 6-1 in No. 3 singles and joined freshman Evan Borowski for an 8-4 win in No. 3 doubles.
Sophomore Aleksas Tverijonas (6-3, 6-2 over Sam Rogerson) and senior John Storie (3-6, 2-2, ret. over Charters) also picked up singles victories, Sunday.
The Govs close out a four-match homestand, Tuesday, with a 2:00pm match against in-state rival Lipscomb.
Box Score
Singles competition
1. Bogajo, Fernando (LWC) def. ADEMOVIC, Jasmin (APSU) 6-4, 6-3
2. BAILEY, Sean (APSU) def. Morales, Fabricio (LWC) 6-0, 4-6, 5-0, retired
3. RISTOVSKI, Dimitar (APSU) def. Dal Pont, Marlon (LWC) 6-4, 6-1
4. TVERIJONAS, Aleksas (APSU) def. Rogerson, Sam (LWC) 6-3, 6-2
5. STORIE, John (APSU) def. Charters, Francisco (LWC) 3-6, 2-2, retired
6. Cornelis, Gilles (LWC) def. BOROWSKI, Evan (APSU) 7-6, 6-2
Doubles competition
1. BAILEY, Sean/ADEMOVIC, Jasmin (APSU) def. Bogajo, Fernando/Charters, Francisco (LWC) 8-4
2. Morales, Fabricio/Cornelis, Gilles (LWC) def. STORIE, John/TVERIJONAS, Aleksas (APSU) 8-1
3. RISTOVSKI, Dimitar/BOROWSKI, Evan (APSU) def. Dal Pont, Marlon/Rogerson, Sam (LWC) 8-4
Match Notes
Lindsey Wilson 2-2
Austin Peay 4-2