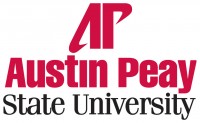 Clarksville, TN – An Austin Peay State University student will be the first in the school's history to receive the Sigma Delta Pi National Hispanic Honor Society Undergraduate Study Abroad Award.
Nancy G. Diaz, a double major in nursing and foreign languages with a concentration in Spanish, is the recipient of the national grant for 2013. She is the first APSU student to receive this grant, said Dr. Miguel Ruiz-Aviles, adviser of the Hispanic honor society at APSU and professor of Spanish.
Diaz will use the award to return to Spain, where she studied last summer.
"Once more I have the opportunity to study abroad in Spain and I feel very blessed not only because it will help with my academic progress, but also because I will have the opportunity to learn more about Spanish-speaking culture," she said. "Spanish is a language with so many variables depending on what part of the world is spoken and I feel that it is my responsibility as a professional to know as much as possible about all these different cultures that are linked together by a base language.
"This opportunity will help me broaden my knowledge about the world and the differences and similarities that make us all unique and so the more I know about different cultures the more I will be able to help."
Diaz, a divorced mother of two children, said she chose to study both nursing and Spanish to help more people.
"I chose these two careers because I feel I will be able to help so many people who sometimes don't even have the blessing to get basic services. One of the reasons is because of the huge language barrier we still have in U.S.," she said. "I know that I can help close this gap for many of them and this gives me a feeling of accomplishment. To me making a difference in someone's life, even in a small proportion, is a reason worth enough to be thankful for one more day of life."