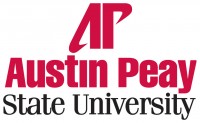 Clarksville, TN – Last month, two Austin Peay State University students – Tiffany Anderson and Kelsea Keith – won the Best Poster Presentation award at the Fall Conference of the Tennessee Association of School Psychologists at Montgomery Bell State Park.
Their research compared the recently published definition of Autism Spectrum Disorders in the Diagnostic and Statistical Manual of Mental Disorders: Fifth Edition (DSM-5) with the Tennessee State Department of Education's definition of Autism.
Anderson and Keith also looked at the DSM-5's newly defined condition, Social Communication (Pragmatics) Disorder, and compared it to the state's definition of Speech/Language Impairments.
The two APSU students made recommendations to bring the state's definitions in synchronization with these recently updated and defined mental disorders.
"Their work is the product of papers they prepared separately in my class this fall, Introduction to Autism," Dr. Larry Lowrance, APSU professor of education, said. "Ms. Anderson's undergraduate paper was on the changing definition of autism. Ms. Keith's graduate level paper was on speech and language impairments in persons with autism.   They combined their work into this sophisticated poster for this state school psychology conference."
Conference attendees, including school psychologists from across the state, picked the APSU students' poster as the best presentation at the event. The honor came with a monetary award and publication of their abstract in the winter edition of the journal Tennessee School Psychologist.
"Their work was exceptional and the winning of the first place poster presentation is a significant accomplishment deserving acknowledgement," Lowrance said. "It was an honor to be in the room when the award was presented to them and see the joy on their faces. It was nice to see Austin Peay State University so well represented by these two very able and talented young ladies."