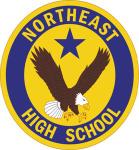 Clarksville, TN – On the eve of National Signing Day, Northeast Eagle senior pitcher Ben Wilford signed his intent to join the Gulf Coast State College Commodores baseball team in a room filled with coaches, family and various supporters at Northeast High School.
Wilford was surrounded by his parents and coaches when he signed his name, and donned the blue Gulf Coast Commodore's cap.
"It feels awesome. It is a weight lifted off of my chest," Wilford said. "To come out here and see all these people come out and see me sign feels really good."
Wilford is one of 11 seniors on the Eagles baseball team this year. He is the 7th senior to sign intent for a college program in the last three years.
"As a coach this is something to look forward to, seeing kids being successful and move on to the next level," Northeast Eagles baseball coach Dustin Smith said. "With Ben it's a no-brainer. A kid that throws in the low 90s, that has the work ethic that he does, he kind of signed himself."
Wilford is a 2-way prospect, playing both pitcher and outfield. Commodore's baseball coach Mike Kandler came from Panama City Beach, Florida to attend the signing.
"A couple of my assistant coaches saw him at events this summer and followed him around. They identified him as a guy with a great throwing arm, 90-91 off the mound with a good breaking ball. Saw him play in the outfield. For us the fact that he can do a couple of different things is really, extremely important," Kandler said.
The Commodores went 32-16 last season and have started 4-0 this season. The Commodores have produced 16 Major League Players dating back to 1964.
"I'm excited," Wilford said. "I am just ready to go down there and play baseball and show them what I got."
While coach Smith is pleased about Ben's future in Florida, he also believes Ben will have a successful last season at Northeast.
"I think he is going to be tough to beat in the district. He may end up being a better outfielder and hitter than he is a pitcher just because he can hit the ball so well," Smith said. "He will be the key to our season."
Photo Gallery