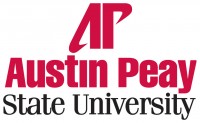 Clarksville, TN – A few years ago, Dr. L. Dwayne Estes, Austin Peay State University associate professor of biology and principle investigator for the Center of Excellence in Field Biology, was driving on the interstate near Chattanooga when he spotted something strange along the side of the road. It was a plant that resembled a fairly common species in Tennessee, but something was off. The white flowers were a little larger than usual, and the leaves had a different shape.

"I just stopped and got out and started looking at this thing," Estes said. "It turned out to be a brand new species to science. This was the only population at the time that was known."

Estes has since found the plant growing in a second location in Tennessee, about a mile away. Without his keen, botanist-eye, it could easily have disappeared before anyone ever discovered it.

"As a botanist, one of my habits is always watching to see what's growing, what's blooming, looking to see if something is out of the ordinary," Estes said. "The fact that this plant is only in two places, it could easily have been destroyed by a housing development or a roadway project."

Estes named the new species Polymnia johnbeckii, in honor of his friend and colleague. It has since been added to the state's endangered species list.

Last year, Estes' research and conservation efforts came to the attention of the Botanical Research Institute of Texas (BRIT), an international scientific research and learning center focused on plant conservation. BRIT, based in Fort Worth, Texas, is one of the world's leading botanical research institutions and has led botany projects in the Amazon, Papua New Guinea, Polynesia, Hawaii and Mexico. Officials at BRIT were so impressed by his work the organization offered him a job as Biodiversity Explorer for the southeastern U.S. There was just one problem. Estes arrived at APSU in 2007 with the goal of developing one of the best field botany programs in the Southeast, and he wanted to continue with that vision as a faculty member at APSU. So he sought advice from Dr. Jaime Taylor, interim provost and vice president of academic affairs at APSU, who suggested Estes consider working for both organizations.

BRIT is now paying a portion of Estes' salary at APSU, allowing him to continue as a principal investigator for the APSU Center of Excellence for Field Biology, while also employing him as a botanical explorer and curator of the 400,000 plant specimens in the Vanderbilt Herbarium, which moved to BRIT in 1998. BRIT is also helping fund some of Estes' research.

"I get to research some of the most biodiverse and underexplored places in the Southeast while working for BRIT, but I still get to fulfill my desire to teach a new generation of botanists and conservationists by maintaining my position with APSU," he said. "My research and teaching fuel each other, and I would never want to do one without the other."

"It is exciting that Dwayne is still at APSU," Taylor said. "BRIT offered him a very healthy salary, but to our credit, he wanted to remain a part of APSU. Dwayne is a world class botanist, and the fact BRIT actively recruited him speaks to how well known he is."

Estes' appointment has also created a new, mutually beneficial partnership between the APSU Center of Excellence for Field Biology and BRIT. In late March, Will McClatchey, vice president and director of research at BRIT, visited APSU to discuss how the two organizations might work together. The Texas institute is currently working to preserve prairie land in that state. McClatchey said they're interested in Estes' research because in the 18th century, the Tennessee landscape consisted more of prairies than the woodlands that now occupy the state.

"We have been hearing over the years that these glades are part of a geological network that runs to just about where we are in Texas up to the edge of the Appalachians," McClatchey said. "The forests here (in Tennessee) are sort of a modern artifact. It was really fascinating to see, because we have every reason to believe that the process of change that is happening here is where we're headed there. There are some good things and scary things to think about."

During McClatchey's visit, the two traveled around the area, identifying potential joint projects of interest to both the Center and BRIT. And the APSU students assisting Estes on these research projects might also find themselves eventually working in Texas.

"Maybe there's a way to develop an internship program between our institutions, where we can cultivate these students, and funnel them down to BRIT somehow," Estes said. "Our students then can become the next botanical explorers. We can train them to go to the Amazon or to Papua New Guinea to work on these projects.

"I didn't want this joint position to just be about me," he said. "I also wanted it to benefit my students. This joint venture will help our program to become a leader in the Southeast."

Estes' students are already benefiting from the partnership. In October 2013, he took eight students in his graduate Plant Systematics class to Fort Worth for several days to conduct class research in BRIT's world-class facilities. Along the way, his class conducted fieldwork in the Ouachita Mountains of Arkansas and Oklahoma as part of their class research projects.

BRIT also is eager to partner with APSU because the Center is becoming one of the leading field biology and botany research departments in the Southeast. In a time when major universities are abandoning a focus on field research and botanical collections, APSU's Center is attracting more graduate students and turning the University's herbarium into the second largest plant museum in the state.

"We have 45,000 specimens of plants from across the Southeast," Estes said. "Within a 150-mile zone, there aren't as many herbaria as large as us. Other universities' collections are smaller and tend to be student-based collections. A lot of our collection was built by professional botanists, like my predecessor, Dr. Edward Chester. About 90 percent of the plants known to occur in Tennessee, some 3,000 species, are represented in our herbarium."

For more information on Estes or this partnership with BRIT, contact the APSU Center of Excellence for Field Biology at 221-7019.



Sections
Education
Topics
APSU, APSU Center of Excellence in Field Biology, Austin Peay State University, Beth LIggett, Biodiversity, Botanical Research Institute of Texas, BRIT, Clarksville, Clarksville TN, Dwayne Estes, Fort Worth Texas, Polymnia johnbeckii, Vanderbilt Herbarium, Will McClatchey