Clarksville, TN – Volunteers gathered at Burchett Park, Sunday, September 7th to help clean-up the Park as part of the nationwide volunteer effort called "September 11th National Day of Service and Remembrance".
Clean-up included pavilion repairs, painting of playground equipment, painting of parking lot spaces, removal of old landscape timbers, and spreading pea gravel in the playground areas.
The 2014 9/11 Serve to Remember Days of Service offers citizens in our community a wonderful opportunity to make a difference and honor our military and their families during the annual service event.
Clarksville was one of 13 cities across the country recognized by the Corporation for National and Community Service 9/11 Day of Service Challenge in 2011.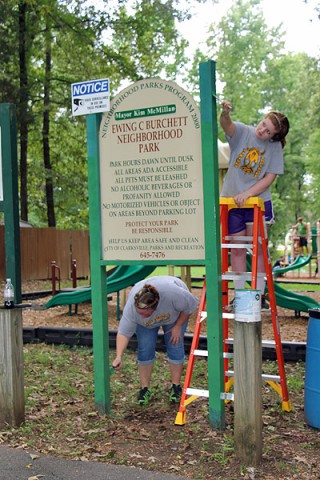 Volunteer Clarksville, Hands on Nashville, and the Clarksville Parks and Recreation Department initiated this project with support from the Corporation for National Community Service. Volunteers were spearheaded by Councilman Deanna McLaughlin and included Clarksville Chive, Martin and Rebecca Hines, Hunter Bracy, Deanna and Kaitlan McLaughlin, Jason and Jericho Lamb, and Eddie Burchett.
"I think about my dad every day, so this was a good way to spend a little time with him, even though he passed 14 years ago," said Eddie Burchett, who donated the land for this park years ago. "It was great to see the all the volunteers helping and the park looks better already. We hope the neighborhood enjoys the Ewing C. Burchett Park for a long time. He loved playing…"
Donations of labor and materials were made by:  Eddie Burchett Construction and Thomas Lumber. Fundraising continues with the plan to purchase a picnic table to be located under the picnic pavilion.
For more information, contact the Clarksville Parks and Recreation office at 931.645.7476 or visit www.cityofclarksville.com