Clarksville, TN – The weekly Clarksville Parks and Recreation Department Recreation Report provides Clarksvillians with a glimpse at the activities and events that are available from the Parks and Recreation Department for them to enjoy together as a family.
This weeks highlights include: Youth Dodge ball League, January Swim Lessons, Christmas on the Cumberland, and Olympic Style Archery.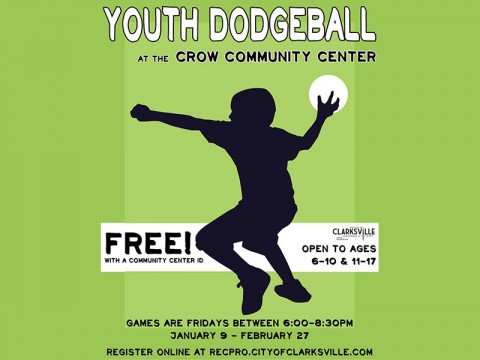 Youth Dodge ball League
Dodge ball returns for another season at the Crow Center
Registration for the Clarksville Parks and Recreation's Youth Dodge ball League is currently underway! Pre-registration is required and participants can register at the Clarksville Parks and Recreation Main office as well as online at recpro.cityofclarksville.com now through January 9th, 2015.
This six-week Youth Dodge ball League, held at the Crow Community Center, is free to participate with a Community Center ID. Community Center IDs can be purchased at any of our three community centers or at our main office, located at 102 Public Square, for just $5.00. IDs are good for an entire year at the Burt-Cobb, Kleeman, and Crow centers.
For families with multiple children, the first child's ID will be $5.00, the second will be $3.00, and three of more children will be $2.00 each.
Games will be played at the Crow Center on Friday evenings beginning January 9th, with a pre-league meeting scheduled on January 2nd at 6:00pm for all players. Teams will be divided into two age divisions: ages 6-10 and ages 11-17.
Register now for January Swim Lessons
Every month, the Indoor Aquatic Center offers five comprehensive levels of swimming lessons as well as Mommy & Me, Preschool, Adult and Adaptive lessons to the public! The next two-week session will be held January 5th-15th. Cost is $35.00 per session, or $15.00 with a pool pass.
Registration is currently underway at recpro.cityofclarksville.com. If those dates don't work with your schedule, sign up for one of our upcoming sessions: February 2nd-12th, March 2nd-12th or April 6th-16th.
Christmas on the Cumberland & Free Activities
Christmas on the Cumberland, the City's popular lighted, walk-through event is now open at McGregor Park! Christmas on the Cumberland is open nightly from 5:00pm to 10:00pm, Sunday through Thursday and 5:00pm to 11:00pm, Fridays and Saturdays through January 3rd, 2015. Admission to the event is free.
Don't miss these upcoming free family friendly activities taking place from 6:00 to 8:00 p.m. at the McGregor Park Museum:
December 19th – Elf School Relays
December 19th & 20th – Giving on the Cumberland
December 20th – Create Holiday Ornaments & Visit with Santa
Olympic Style Archery kicks off January 6th
During this six-week session, participants ages 10-18, are taught a strong foundation in archery in an effort to prepare them for competition. Olympic Style Archery classes meet Mondays and Wednesdays from 4:00pm to 5:00pm, January 6th thru February 17th at the Kleeman Community Center. The cost for the entire session is $45.00/person with a Center ID.
Pre-registration is required. Register on-site or online at recpro.cityofclarksville.com.