Austin Peay Sports Information

Murfreesboro, TN – Austin Peay State University men's tennis team wrapped up its nonconference slate and saw its eight-match winning streak come to an end with a 7-0 loss to Middle Tennessee, Tuesday.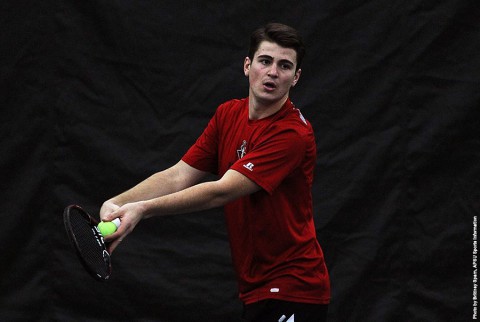 With the loss, Austin Peay falls to 12-5 overall, but remains 7-0 in the Ohio Valley Conference. With the win, Middle Tennessee improves to 13-10 overall.
In doubles action, the Govs pairing of sophomore Aaron Jumonville and junior Evan Borowski dropped an 8-4 decision at the No. 2 position. The Blue Raiders clinched the doubles point when the duo of senior Dimitar Ristovski and sophomore James Mitchell lost 8-4 at the No. 1 position.
In singles play, the Govs were led by Ristovski, who battled back to force a third set before falling to Ben Davis 6-2, 4-6, 10-4 at the No. 1 slot. In other singles matches, sophomore Manuel Montenegro dropped a 6-3, 6-4 decision at No. 3 while Jumonville lost a 6-2, 6-2 match to Ettore Zito at the No. 2 position.
The Govs return to the court and OVC play with a 2:00pm, Friday, home contest against Jacksonville State at the Governors Tennis Courts.
Box Score
Singles
No. 1 – Ben Davis (MTSU) def. Dimitar Ristovski (APSU) 6-2, 4-6, 10-4
No. 2 – Ettore Zito (MTSU) def. Aaron Jumonville (APSU) 6-2, 6-2
No. 3 – Yannick Born (MTSU) def. Manuel Montenegro (APSU) 6-3, 6-4
No. 4 – Gian Issa (MTSU) def. Oleg Drobysh (APSU) 6-2, 6-1
No. 5 – Dima Zyhmantovich (MTSU) def. James Mitchell (APSU) 6-0, 6-1
No. 6. – Victor Hoang (MTSU) def. Evan Borowski (APSU) 6-0, 6-1
Doubles
No. 1 – Davis/Hoang (MTSU) def. Mitchell/Ristovski (APSU) 8-4
No. 2 – Born/Miguel Fernandez (MTSU) def. Jumonville/Borowski (APSU) 8-4
No. 3 – Drobysh/Montenegro (APSU) vs. Zymantovich/Zito (MTSU) 4-5 (unfinished)
Order of finish: Doubles (2, 1*); Singles (6, 5, 4*, 3, 2, 1)