APSU Sports Information

Spartanburg, SC – Austin Peay State University men's golf team shot a final-round 299, Tuesday, to finish 13th in the 28th Annual Coca-Cola Wofford Invitational, played at The Club of Spartanburg.
The Governors battled bogey issues early before settling down to regain some footing midway through the round.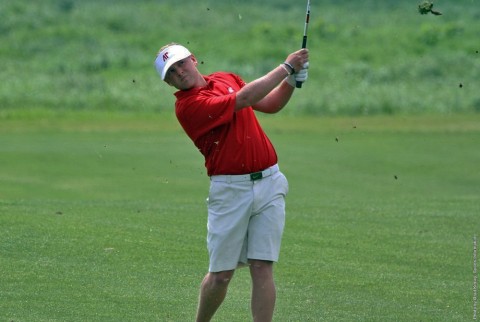 The Govs rolled up 11 birdies at one point over a six-hole stretch. But the bogeys issues came back to haunt them late.
In fact, over the final three holes, Tuesday, each Gov had at least one bogey and the counters played those holes at 8-over. As a result, the Governors finished 11-over for the day and with an 879 for the tourney.
The bogey issue even caught up to APSU's tourney leader, senior Austin Kramer, who shot a 1-under 71 on the day, despite a bogey on his final hole (No. 6). He finished the tournament at 3-under 213, leaving him tied for 13th. Kramer consistently was solid over the two days.
Fellow senior Chris Baker led the tournament by going 12-under on Par 5s, but it was the shorter holes that gave him trouble—he will have almost two weeks to refine his on the par 3s and 4s before the Ohio Valley Conference championships, April 25th-27th, in Muscle Shoals, AL. He shot a final-round 73 to finish at 4-over 220 for the tournament.
Sophomore Justin Arens lost three strokes late and slipped to a 77, Tuesday, while junior Erik Hedberg struggled to a 78 on a day when he was 6-over early before scrambling back to get it down to 4-over heading into the final hole. However, a double-bogey ended a frustrating round.
Senior Tyler Phillips was another who could not overcome a slow start, finishing at 8-over 80.
Gardner-Webb (847) rallied late to overcome host Wofford (852) for the title. Defending champ Army (855) took third. Vincent Bianchette shot a three-round 14-under 202 to set the tourney three-round record to lead the Runnin' Bulldogs win.
Box Score
Coca-Cola Wofford Invitational
The Country Club of Spartanburg
Spartanburg, SC
| | | | | | |
| --- | --- | --- | --- | --- | --- |
| Finish | School – Players | Round 1 | Round 2 | Round 3 | Totals |
| 13 | Austin Peay State University | 283 | 297 | 299 | 879 |
| T 13 | Austin Kramer (2) | 70 | 72 | 71 | 213 |
| T 34 | Chris Baker (1) | 72 | 75 | 73 | 220 |
| T 52 | Erik Hedberg (3) | 69 | 76 | 78 | 223 |
| T 64 | Justin Arens (4) | 72 | 76 | 77 | 225 |
| T 74 | Tyler Phillips (5) | 75 | 74 | 80 | 229 |
| | | | | | |