APSU Sports Information

Murfreesboro, TN – Austin Peay State University (APSU) men's tennis team ran into a strong Middle Tennessee squad in its final nonconference match of the season, Tuesday, falling 7-0 at the Buck Bouldin Tennis Center.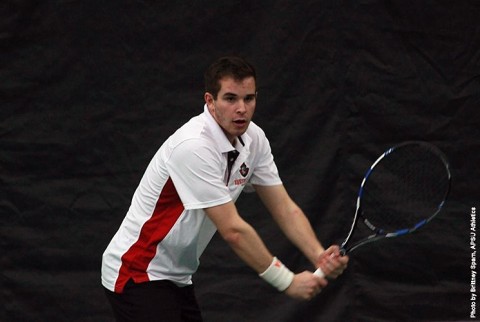 The Governors (6-9) finish the year 1-6 against non-Ohio Valley Conference schools, a loss which once again snaps a three-match winning streak.
APSU previously held a winning streak identical to last week's before dropping a 7-0 decision against Tennessee, April 3rd.
No. 74 ranked Middle Tennessee (16-8) gained an advantage beginning in doubles play, winning the point after victories at the No. 1 and No. 2 spots. Gonzalo Morell and Ayed Zatar Cordero teamed to defeat APSU's Aaron Jumonville and Manuel Montenegro, 6-1, while Gian Issa and Miguel Negre won 6-2 over Aleh Drobysh and Almantas Ozelis. The No. 3 match between Robin Riethmueller/Dima Zyhmantovich and Alex Kartsonis/Chad Woodham was unfinished.
The Blue Raiders picked up where they left off as singles action was underway, led by Morell's 7-5, 6-3 victory over Jumonville at the top billing.
The home side went on to sweep the Govs, with just one match needing a third set. At No. 4, Kartsonis fought back from a deficit, but unfortunately fell 4-6, 6-3, 1-0(10-6) against MTSU's Zyhmantovich. Prior to that, Cordero defeated Montenegro, 6-2, 6-2, and Negre topped Drobysh, 6-1, 6-2.
Rounding out the order, Issa bested Woodham, 6-4, 6-1, and James Mitchell, playing in his first match since March 26, fell to Riethmueller, 6-2, 6-0.
Austin Peay wraps up regular season play this weekend, beginning 1:00pm, Friday at Tennessee Tech, before a Saturday showcase at Jacksonville State.
Box Score
Singles
1. Gonzalo Morell (MT) def. Jumonville, Aaron (APSU) 7-5, 6-3
2. Ayed Zatar Cordero (MT) def. Montenegro, Manuel (APSU) 6-2, 6-2
3. Miguel Negre (MT) def. Drobysh, Aleh (APSU) 6-1, 6-2
4. Dima Zyhmantovich (MT) def. Kartsonis, Alex (APSU) 4-6, 6-3, 1-0 (10-6)
5. Gian Issa (MT) def. Woodham, Chad (APSU) 6-4, 6-1
6. Robin Riethmueller (MT) def. Mitchell, James (APSU) 6-2, 6-0
Doubles
1. Ayed Zatar Cordero/Gonzalo Morell (MT) def. Jumonville, Aaron/Montenegro, Manuel (APSU) 6-1
2. Gian Issa/Miguel Negre (MT) def. Drobysh, Aleh/Almantis Ozelis (APSU) 6-2
3. Robin Riethmueller/Dima Zyhmantovich (MT) vs. Kartsonis, Alex/Woodham, Chad (APSU) 4-3, unfinished