Austin Peay Sports Information

Cookeville, TN – Austin Peay State University men's tennis team dropped a 7-0 decision to Ohio Valley Conference leaders Tennessee Tech, Friday, at the Tech Tennis Courts.
The Governors (6-10, 5-3 OVC) slip to fourth in the standings, still in position to gain entry to the conference tournament.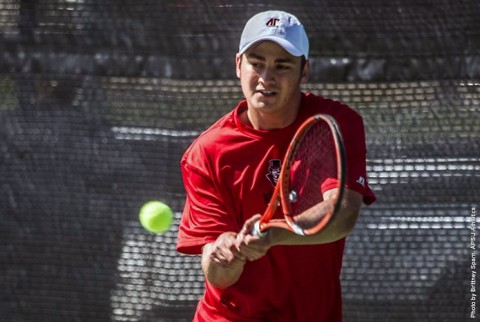 APSU will have one final regular season match – 10:00am, Saturday morning at Jacksonville State.
Friday, the Golden Eagles (12-6, 8-0 OVC) narrowly gained the doubles point, needing a tiebreaker victory to clinch it. At No. 1, TTU's Alex Arovin and Alberto Esteban defeated Aaron Jumonville and Manuel Montenegro, 6-3.
To follow, Alex Kartsonis and Chad Woodham put on a good fight against Jorge Alfonzo and Guillermo Nicolas, only to fall 7-6(4). The No. 2 match between Almantas Ozelis/Aleh Drobysh and Eduardo Mena/Marcos Bernanardes was unfinished.
APSU held up well against the undefeated Golden Eagles, forcing three matches to enter a third set. Mena and Jumonville put on a show at the No. 1 singles spot, with Mena escaping with a 6-7, 6-2, 6-2 victory. Behind them, Arovin withstood a late rally by Ozelis to win, 6-0, 5-7, 6-1, while Esteban knocked off Montenegro, 6-2, 6-1.
At No. 4, Nicolas topped Drobysh, 6-3, 2-6, 3-2, retired, while Bernardes defeated Kartsonis 6-4, 1-6, 6-0, and Alfonzo got the better of Woodham, 6-0, 6-2.
Box Score
Singles
1. Mena, Eduardo (TTU) def. Jumonville, Aaron (APSU) 6-7, 6-2, 6-2
2. Arovin, Alex (TTU) def. Ozelis, Almantas (APSU) 6-0, 5-7, 6-1
3. Esteban, Alberto (TTU) def. Montenegro, Manuel (APSU) 6-2, 6-1
4. Nicolas, Guillermo (TTU) def. Drobysh, Aleh (APSU) 6-3, 2-6, 3-2, retired
5. Bernardes, Marcos (TTU) def. Kartsonis, Alex (APSU) 6-4, 1-6, 6-0
6. Alfonzo, Jorge (TTU) def. Woodham, Chad (APSU) 6-0, 6-2
Doubles
1. Arovin, Alex/Esteban, Alberto (TTU) def. Jumonville, Aaron/Montenegro, Manuel (APSU) 6-3
2. Mena, Eduardo/Bernardes, Marcos (TTU) vs. Drobysh, Aleh/Ozelis, Almantas (APSU) 6-6, unfinished
3. Alfonzo, Jorge/Nicolas, Guillermo (TTU) def. Kartsonis, Alex/Woodham, Chad (APSU) 7-6 (7-4)