APSU Sports Information

Clarksville, TN – The Austin Peay State University men's tennis team dropped a close 4-3 match to IUPUI Saturday afternoon at the APSU Indoor Tennis Courts.
The Jaguars struck first taking the doubles point. Aaron Jumonville and Manuel Montenegro gave the Govs a 1-0 lead for the doubles point after they defeated David Beasley and Matt Moe 6-4, but IUPUI answered with wins at No. 3 and No. 1 doubles earning the point.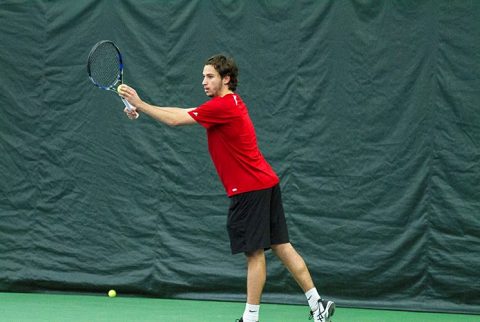 Montenegro continued his winning ways by knotting the match at one point each after he defeated Jose Calero, 6-2, 6-2, at No. 1 singles.
The Jaguars answered with wins at No. 3 and No. 4 to take a 3-1 lead in the match, but Almantas Ozelis pulled the Govs within a point when he defeated Jac Newis 5-7, 6-4, 7-5 in his No. 2 singles match.
IUPUI clinched the match win with a victory at No. 6 singles. However Aleh Drobysh picked up the win in his No. 5 singles match to give the match the final of 4-3.
APSU will take the next seven days off before hosting Lindsey Wilson College on Saturday, February 25 for its next match.
Box Score
IUPUI 4, Austin Peay 3
Singles
1. Manuel Montenegro (APSU) def. Jose Calero (IUPUI) 6-2, 6-2
2. Almantas Ozelis (APSU) def. Jac Newis (IUPUI) 5-7, 6-4, 7-5
3. Steven Christie (IUPUI) def. Aaron Jumonville (APSU) 6-3, 7-6 (10-7)
4. David Beasley (IUPUI) def. Alex Kartsonis (APSU) 4-6, 6-2, 6-4
5. Aleh Drobysh (APSU) def. Marcus Nalley (IUPUI) 6-2, 4-6, 10-3
6. Bradley Luetschwager (IUPUI) def. Chad Woodham (APSU) 6-3, 6-1
Doubles
1. Bradley Luetschwager/Jac Newis (IUPUI) def. Almantas Ozelis/Aleh Drobysh (APSU) 7-6 (10-6)
2. Aaron Jumonville/Manual Montenegro (APSU) def. David Beasley/Matt Moe (IUPUI) 6-4
3. Steven Christie/Marcus Nalley (IUPUI) def. Alex Kartsonis/Chad Woodham (APSU) 6-4
Match Notes:
IUPUI 5-5
Austin Peay 2-6
Order of finish: Doubles (2,3,1); Singles (1,3,4,2,6,5)