APSU Sports Information

Clarksville, TN – With the match knotted at three, Chad Woodham rallied from down a set to take a 4-6, 6-1, 6-3 win in his No. 6 singles match to secure the Austin Peay State University men's tennis team's 4-3 win over Lindsey Wilson Saturday afternoon in the APSU Indoor Tennis Courts.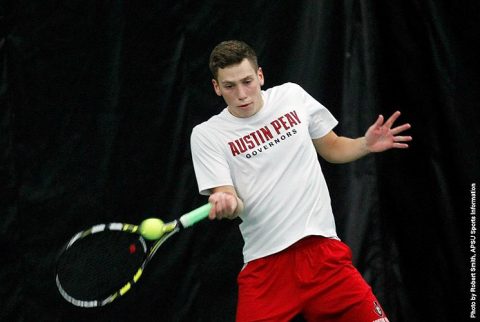 APSU dropped the doubles point with the Govs winning only the No. 2 match behind a 6-3 win from Manual Montenegro and
Aaron Jumonville
over Filip Persson and Javier Raya.
Lindsey Wilson expanded its lead to 2-0 with a win at No. 1 singles, before the Govs reeled off three straight wins to take a 3-2 lead in the match. Alex Kartsonis defeated Persson, 6-3, 6-3, at No. 4 followed a win at No. 3 for Jumonville when he defeated Tomas Depiaggio, 6-0, 6-4. Almantas Ozelis was the final Gov during the stretch to pick up a win following a 6-4, 4-6, 6-4 win in his No. 2 singles match over Ivan Solans.
After Lindsey Wilson tied the match at three with a win at No. 5 singles, Woodman stepped up huge for the Govs and delivered the match winning performance in his No. 6 singles match.
The Govs will return to action on the road at West Florida on Wednesday, March 8th after a 10 day layoff for its next match.
Box Score
Austin Peay 4, Lindsey Wilson 3
Singles
1. Denis Porcic (LWC) def. Manual Montenegro (APSU) 6-3, 6-4
2. Almantas Ozelis (APSU) def. Ivan Solans (LWC) 6-4, 4-6, 6-4
3. Aaron Jumonville (APSU) def. Tomas Depiaggio (LWC) 6-0, 6-4
4. Alex Kartsonis (APSU) def. Filip Persson (LWC) 6-3, 6-3
5. Cobi Mo (LWC) def. Aleh Drobysh (APSU) 7-6 (3), 6-4
6. Chad Woodham (APSU) def. Javier Raya (LWC) 4-6, 6-1, 6-3
Doubles
1. Denis Porcic/Tomas Depiaggio (LWC) def. Almantas Ozelis/Aleh Drobysh (APSU) 6-4
2. Manual Montenegro/Aaron Jumonville (APSU) def. Filip Persson/Javier Raya (LWC) 6-3
3. Cobi Mo/Ivan Solans (LWC) def. Alex Kartsonis/Chad Woodham (APSU) 6-3
Match Notes:
Lindsey Wilson 4-3
Austin Peay 3-6
Order of finish: Doubles (3,1,2); Singles (1,4,3,2,5,6) A-37