Clarksville, TN – Would you like to see your art on display or your short film viewed by hundreds? Do you want to have the chance to win a cash prize? Do you have a friend or family member who would be interested?
Help us spread the word! The Riverfest Art Experience is looking for entries for 2017.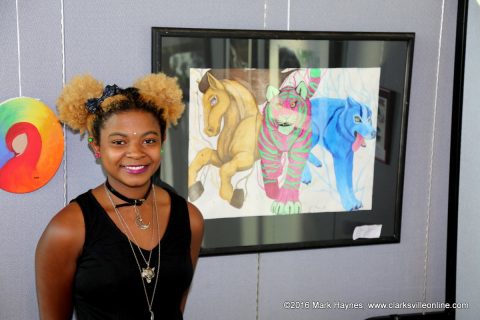 The Riverfest Art Experience will kick-off Riverfest on Thursday, September 7th, 2017 with a public art show featuring both a Juried Art Show (formerly known as Tour d'Art) and a Film Festival. This free show will begin at 5:00pm at Liberty Park and will include art and films from local talent, music and prizes.
Film Festival
The 52-Hour Film Festival is a chance for all aspiring and professional filmmakers to showcase their talents on the big screen. Each film team will have 52 hours to create a 4-7 minute short film using predetermined lines and props.
All participants must attend a mandatory meeting scheduled for Friday, August 11th at Freedom Point. This will begin the 52-hour filming timeline.
All short films will be shown on Thursday, September 7th at Liberty Park Amphitheater as part of the Riverfest Art Experience. Film screening begins at sunset. Prizes will be awarded to the top 3 teams, viewer's choice and more.
Pre-registration is required. Deadline to register is Thursday, August 10th. There is no cost to enter. Interested participants can complete the application online at www.clarksvilleriverfest.com or download the application and submit it in person to the City of Clarksville's Parks and Recreation Department at 102 Public Square.
Juried Art Show
The Juried Art Show showcases the work of local professionals, amateurs, and aspiring artists in four divisions: professional, amateur, senior, and youth. The following categories are open to all divisions:
Photography and Digital Media.
Painting (includes acrylic, oil, and watercolor).
Drawing.
2D Mixed Media.
3D Sculpture and Fiber Arts
Submitted artwork will be juried and selected for inclusion in the public display on September 7th at the Wilma Rudolph Event Center. First, second, and third place will be awarded in each of the five categories for each division. A limited number of Honorable Mention ribbons may also be awarded. Monetary awards will be given for first, second, and third place in the professional, amateur, and youth divisions. Recognition will be given for first, second, and third place in the Senior Division. Best of Show will be chosen among the professional and amateur divisions, with another Best of Show chosen among the senior division.
Pre-registration is required to enter artwork into the 2017 Riverfest Art Experience Juried Art Show. Registration closes on Wednesday, August 23rd. No registrations will be accepted after the deadline.
All submission rules and entry fees for each division are available on the website. Artists may register online by visiting www.clarksvilleriverfest.com.
About Riverfest
Celebrating its 30th year, Riverfest brings more than 30,000 people to the banks of the Cumberland River in an arts and recreation celebration. The Festival will be September 7th-9th, 2017. Music, art, family events, and more will fill McGregor Park. Admission and entertainment at the Festival are free and open to the public. More announcements will be made soon, as new events and entertainment are finalized.
To stay up to date on the Festival, visit www.clarksvilleriverfest.com
The Festival is brought to you by the City of Clarksville Parks & Recreation Department. For more please call 931.645.7476.