"Planters Bank Presents…" Film Series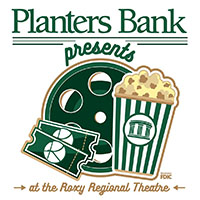 Clarksville, TN – The "Planters Bank Presents…" film series next movie is "Dirty Dancing". This movie will be shown this Sunday, August 6th, 2017 at the Roxy Regional Theatre at 2:00pm.
"Dirty Dancing" is about an innocent teen, Frances "Baby" Houseman (Jennifer Grey) who is spending the summer with her family at an upscale Catskills resort in the 1960s. She falls in love with the camp's dance instructor, Johnny Castle (Patrick Swayze).
Features the Oscar-winning song "(I've Had) The Time of My Life.
Admission to each film in the "Planters Bank Presents…" series is $5.00 (cash or check only). Tickets are on sale now at the Roxy Regional Theatre box office. Any remaining tickets will be available at the door one hour prior to showtime.
Normal box office hours are 9:00am-2:00pm, Monday through Friday.
At the concession stand, enjoy a bag of popcorn and a bottled water for $5.00 (sold separately for $4.00 and $2.00, respectively) and assorted candy for $2.00.
This film series at the Roxy Regional Theatre is made possible by the generous support of Planters Bank and the Clarksville-Montgomery County Arts & Heritage Development Council.
The Roxy Regional Theatre is located at 100 Franklin Street in Clarksville, TN.