APSU Sports Information
Conway, SC – After a short home stand, the Austin Peay State University (APSU) beach volleyball team resumed ASUN Conference play in Conway, South Carolina as the Governors split their matches in Day One of the Conway Classic, defeating Jacksonville State, 4-1, and falling to Coastal Carolina, 0-5.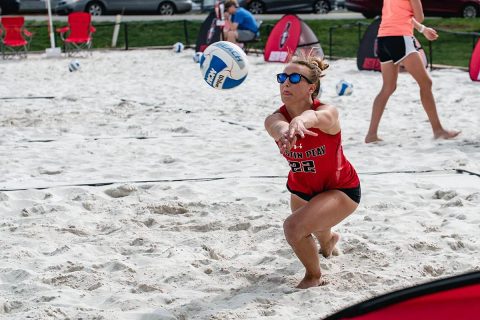 In the battle against JSU, MiMi Arrington and Caroline Waite for the Govs in the No. 5 pairing fought with Hailey Hughes and Bethany Randall of the Gamecocks to a three-set finish as the Govs took the first set, 21-17, and outlasted JSU in the third set, 15-11.
Cori Theiss and Ginny Gerig in the No. 3 pairing for the Govs defeated the Gamecocks' Taylor Wooldridge and Ashley Pettibone in straight sets, 21-15, 22-20.
Brooke Moore and Ciera Koons went back and forth in the No. 2 pairing against JSU's Kattie Will and Shayla Schmidt. Koons and Moore lost the first set, 18-21, but bounced back to a three-set victory, 21-17, 15-11. Having won their past six matches together, Haley Turner and Jenna Panning continued their hot streak and defeated Kaylie Milton and Bailey Nelson in straight sets, 21-19, 21-16.
Match Two got underway for the Govs against host Coastal Carolina after heavy showers caused a rain delay. After dropping the first set in the No. 4 pairing, Chloe Stitt and Lucy Randall for the Govs took the second set against Shelby Ladewig and Aleksandra Djuric, 21-17, but fell in the decisive third set.
Koons and Moore in the No. 3 pairing went into extra volley with the Chanticleers' Kate Federico and Tanner Gauthier in the second set before falling 25-23. In the No. 1 pairing, Panning and Turner suffered their first match loss in eight previous matches, but forced Coastal Carolina's Leah Hardeman and Sydney Alvis into extra volleys in the second set, 22-20.
The Governors will look to secure another victory against Jacksonville State, 11:00am, Saturday, and to get a revenge against Coastal Carolina, 9:00am tomorrow for Day Two of the Conway Classic.
Box Score
Austin Peay 4, Jacksonville State 1
Austin Peay 0, Coastal Carolina 5