Clarksville, TN – Austin Peay State University (APSU) spring 2019 graduate Ebony Walton remembers the exact time the package arrived.
"I remembered it was 4:05pm and my nephew brought it to me," Walton said. "I thought it would be (a certificate) like my ADDY award. I didn't know what was being shipped to my home."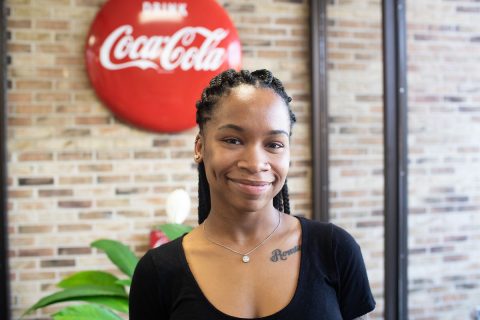 The package contained plaques from the Southern Student Graphic Design Show (SSGDS):
Best of Category in publication design for her portfolio book.
Gold in publication design for her portfolio book.
Gold in visual identity and collateral for "Sweet Ride," a class assignment to create logos, stationery, mobile platforms and apparel for a fictional company.
The deliberate packaging surprised her. "Fragile" on the side of the box denoted something more than a certificate for her efforts.
"It was really fancy!" Walton said, laughing.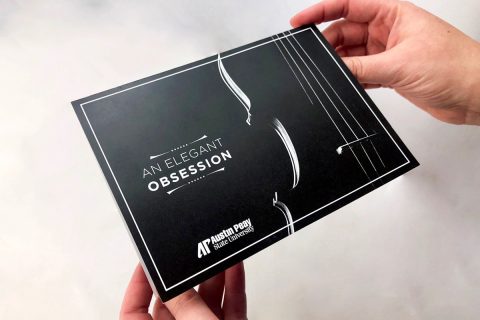 An Odd Way To Be Honored
Walton could not attend the awards ceremony at Arkansas State University because it conflicted with her graduation at Austin Peay State University, but SSGDS worked with her.
"I knew it was going to be the same day as graduation, but I didn't want to skip out on the opportunity of possibly winning," Walton said. "So I submitted anyways."
SSGDS emailed her that both of her submissions qualified.
"It was kind of like the ADDYs (the American Advertising Awards), you just know you got in but you didn't know what you won until the awards ceremony," she said. Walton won a student silver ADDY for book design.
She found out about her SSGDS wins when the awards arrived in the mail.
"I didn't know that I had won anything at that level," Walton said. "When they threw in the best of category, I was floored."
She regretted her absence in Arkansas. Networking is tantamount to success in the graphic design industry.
"Part of me wished I could've gone to the awards show for networking and different things like that and to actually be a part of it, but graduation had to come first."
Unknowingly Shaping Her Future
Walton is from Clarksville and the youngest of six children. Her interest in graphic design began at a young age.
"You would think I had no free time," Walton wrote in her portfolio book. "But in reality, my older siblings did not want anything to do with me. In order to occupy myself, I learned to use technology and that became my escape, I grew to love it.
"As years went on, I began to work in design and figure out how to lay things out. In the time I spent with 'The Sims' series, I learned to explore color and balance. When I started blogging, I learned minor coding and layout. These aspects of design would unknowingly shape my future," stated Walton.
Walton graduated from Kenwood High School in 2015. She earned a Bachelor of Fine Arts in Graphic Design from Austin Peay State University.
Walton wants to work in editorial design.
"Anything more focused on layout rather than logos and things of that nature," she said.
She has not been resting on her laurels. She had an internship at Thrive Creative Group, a local creative marketing firm for small startup businesses, where she cut her teeth on editorial design.
"I worked on a magazine and loved just playing around and placing things in different spots."

Walton Is Fearless
Walton was apprehensive about attending APSU, but she made it her home.
"I love Austin Peay, and I'm not just saying that," she said.
The professors stuck out most to Walton.
"When I got to college I hadn't really touched Photoshop or Illustrator," she said. "The professors were really helpful about working with people who hadn't necessarily had that experience."
Walton thought working with the same professors through her undergraduate program was crucial in fostering trust.
"They've really helped us and guided us," she said. "They take time to submit projects that students have worked on out of the department's own budget, which is really nice," Walton said. "They want their students to be the best they can be."
Working with the graphic design department at Austin Peay taught Walton tenacity and to "not be as afraid as I used to be" about chasing her ambition, she said.
If her tenure at Austin Peay is any indication, it won't be long before she is flown out to receive awards across the country instead of anxiously waiting for them in the mail.
For More Information
To learn more about the APSU Department of Art + Design, visit www.apsu.edu/art-design.