Clarksville, TN – The Austin Peay State University (APSU) men's tennis team finally got its season underway today, hosting North Alabama and Cumberland for the APSU Hidden Duel at the Governors Tennis Center.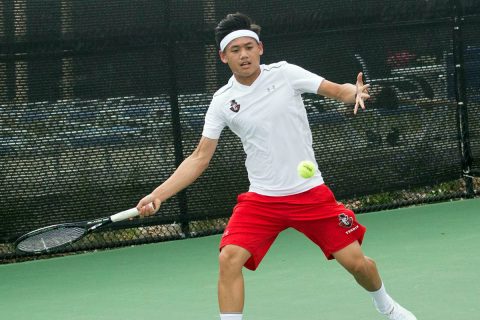 The Governors sat out the first session, while North Alabama and Cumberland played a singles duel. But the Governors got things going in the next two sessions, playing doubles duels against North Alabama and Cumberland.
The Governors lineup consisted of two new duos; the first was juniors Jacob Lorino and Christian Edison. Lorino/Edison knocked off the Cumberland duo of Bagnera/Bochnia in their first match together. The second paring for the Govs featured sophomore Anton Damberg and freshman Julius Gold. In Gold's first collegiate match, and their first time playing together, the pair won 6-2. Govs freshman Thiago Nogueira was paired with Yannick Pfleiderer, from North Alabama, in his first match due to a lack of available Govs. Nogueira/Pfleiderer dropped their match, 6-3.
In the second session, the Governors ran out the same two pairings against North Alabama. The Govs dropped all three matches against North Alabama, with Lorino/Edison falling 6-3 and Gold/Damberg falling 6-2. Nogueira was paired with a player from Cumberland, and they lost their match, 6-3.
The Govs will be back in action with singles play beginning at 9:00am tomorrow morning. The Governors will kick things off against North Alabama, before taking the next session off while Cumberland and North Alabama play doubles. The Governors will wrap things up with a singles duel against Cumberland at approximately noon.
Thoughts from APSU Coach Ross Brown
"We had some wins and losses today. Overall, our men worked hard and I am pleased with everyone's effort. We must improve our doubles by making less unforced errors, keeping better inventory on opponent weaknesses, and by not trying to make great shots from tough positions."
APSU Govs Day One Match Results
Austin Peay vs. Cumberland (Doubles)
Jacob Lorino/Christian Edison (APSU) def. Bagnera/Bochnia (CU) 6-2
Julius Gold/Anton Damberg (APSU) def. Alonso/Sarpa (CU) 6-2
Ramirez (CU)/Markos (UNA) def. Thiago Nogueira (APSU)/Yannick Pfleiderer (UNA) 6-3
Austin Peay vs. North Alabama (Doubles)
Maguire/Hansen (UNA) def. Jacob Lorino/Christian Edison (APSU) 6-3
Markos/Heslin (UNA) def. Julius Gold/Anton Damberg (APSU) 6-2
Girao/ Pfleiderer (UNA) def. Thiago Nogueira (APSU)/ CU Player 6-3