Clarksville, TN – The Austin Peay State University (APSU) Office of Public Relations and Marketing was recently honored for its work by the Council for Advancement and Support of Education (CASE) – Southeast District III, winning five awards.
The awards were announced in January and will be awarded at the 2020 CASE III annual conference February 9th-12th in Orlando, Florida.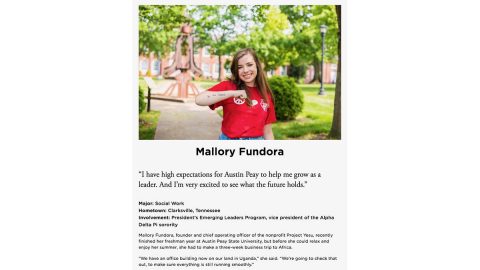 The awards are:
Silver in the Writing for the Web category for the University's GovLife profile on Mallory Fundora, https://apsu.edu/govlife/students/mallory-fundora.
Bronze in the Recruitment Website or Microsite category for the University's Industry Summit 2019 microsite.
Bronze in Recruitment Website or Microsite for the University's Art + Design webpage, www.apsu.edu/art-design.
Bronze in Single-Page Publication for the University's College of Business brochure.
Bronze in Recruitment Publication Series for the University's Rock & R.O.W. publications.
The Public Relations & Marketing department also won awards in 2019, including awards of excellence in social media strategy, photography and website design.
CASE District III advances and supports educational and professional institutions in the southeastern U.S. by enhancing the effectiveness of the alumni relations, fundraising, communications, marketing and other advancement professionals who serve them.
For more information about CASE III or to see other school award winners, visit www.casethree.org.