Topic: AutoMD
90% of DIYers are doing the same amount, or more, repairs than a year ago; 79% continue to DIY, even with improved financial outlook
Carson, CA – An easing economic outlook has had little impact on the amount of auto repairs DIYers undertake, according to the "2013 DIY Report" from AutoMD.com.
Driven by cost-savings – but also enjoying the process – DIYers are continuing to do more of their own auto repairs, are attempting more difficult repairs, and say they are saving dollars while doing so.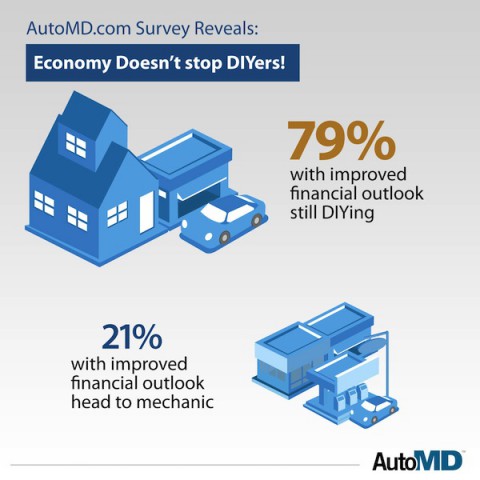 «Read the rest of this article»
Carson, CA – Classes are back in session in schools across the U.S. and that means an increasing number of teen drivers are back on the nation's highways.
While a majority of teenagers take driver's education courses to learn the rules of the road, many don't understand the steps required to keep their cars properly maintained and running safely. «Read the rest of this article»
AutoMD.com expert mechanics help car owners ditch the old notion of the engine tune-up and focus on preventative maintenance and diagnostics
Carson, CA – As that midsummer road trip approaches, it is time for the annual summer engine tune-up… or is it? Typically, car owners visit their local repair shop for a tune-up before hitting the road, but the traditional definition of a tune-up has changed.
It may have made sense for our parents and grandparents to tune-up every 15,000 or 30,000 miles, but, today, the demand for fewer emissions and technological advancements have reduced the need. In fact, the 'tune-up' is becoming an outdated term with no real definition. «Read the rest of this article»
Expert mechanics dispel the myths, and provide car owners with important facts and advice on buying auto parts
Carson, CA – According to a recent report from AutoMD.com, an increasing number of consumers are doing their own car repairs,1 which means these DIYers are probably buying auto parts — but what should these auto parts buyers know about the difference between an OEM and an aftermarket part?
«Read the rest of this article»
Understanding Basic Vehicle Symptoms Can Help Save You $$$, Time – and Maybe Even Avoid an Accident…
Carson, CA — With so many things that can go wrong with today's complex vehicles and, until now, so little information readily available, car owners often find themselves playing a guessing game with symptoms before they reach the repair shop (and even after they've received the official diagnosis).
With this in mind, AutoMD.com's (www.automd.com) team of expert mechanics has released a list of five Commonly Misdiagnosed Vehicle Symptoms to help car owners understand that sometimes a squeak is just a squeak — and sometimes it can mean a lot more. «Read the rest of this article»
AutoMD.com Helps Parents Make Sure Their Son's or Daughter's Back-to-School Car is Safe and Ready to Drive
Carson, CA — Whether your back-to-school kid is driving to college or high school, it is important that his/her vehicle is in tip-top shape and, above all, safe to drive. Sadly, motor vehicle accidents are the leading cause of death for U.S. teens1, and neglected vehicle maintenance leads to 2,600 deaths annually and nearly 100,000 disabling injuries.2
With this sobering data in mind, AutoMD.com's team of expert mechanics has released its Top Five DIY Checklist for the Back-to-School Car, along with some practical advice to help parents ensure their kid's safety on the road — and their peace of mind at home.
«Read the rest of this article»