Topic: Clarksville City Finance Department
Qualifying charitable or civic organizations may apply
Clarksville, TN – Qualified non-profit charitable or civic organizations serving Clarksville have an opportunity to seek the City's financial support on a limited basis.
The City is authorized under state statute (TCA 6-54-111) to appropriate money for non-profit organizations. The law also outlines which non-profit charitable or civic organizations are eligible.
«Read the rest of this article»
Clarksville, TN – For the second year in a row, the City of Clarksville has been awarded the Certificate of Achievement of Excellence in Financial Reporting by the Government Finance Officers Association of the United States and Canada (GFOA).
"I am very excited that the City has received this honor again this year," said Clarksville Mayor Kim McMillan.
«Read the rest of this article»


Clarksville, TN – The City of Clarksville and Montgomery County intend to submit a joint application for the 2013 Byrne Justice Assistance Grant in the amount of $58,032, with the funds to be shared equally between the County and the City for law enforcement and crime prevention activities.
Any person wishing to make a comment may attend a public comment period Thursday, June 20th, 2013 at 11:00am.
This session will be held at City Hall Finance Department, 1 Public Square, Clarksville, Tennessee.

Clarksville, TN – Clarksville Mayor Kim McMillan congratulates four individuals from the City of Clarksville's Finance Department who have recently received certification as Certified Municipal Finance Officers from the Municipal Technical Advisory Service, a program of the University of Tennessee.
Interim Director Debbie Frazier, Jean Adcock, Regina Hampton and Wanda Morrison will graduate on February 22nd, 2013 in a ceremony to be held at the War Memorial Auditorium in Nashville. «Read the rest of this article»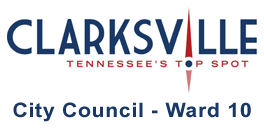 Clarksville, TN – As I start this second report on the final Clarksville City Council meeting/result of the FY 2013 budget, you need to know that I sponsored an amendment to reduce it.  At first, I recommended a $2 million cut of the total spending request.  This would have lowered proposed expenditures to $79 million for FY 2013.
This would still represent a spending increase of $1.5 million over the initial projected budget of $77.5 million for FY 2012. Due to the $2.3 million that was eventually cut from the FY 2012 budget, actual spending was $75.2 million. Thus, true spending growth from FY 2012 to FY 2013 could have been $3.8 million ($79 mil-$75.2 mil) or 5%. «Read the rest of this article»