Topic: CPD TACT Team

Clarksville, TN – When the Clarksville Police Department TACT Team members enter the residence on Commerce Street and took Darren Vance, a 50-year-old black male visitor from Louisville, Kentucky into custody shortly before 4:00am Tuesday, October 17th, 2017 they discovered the suspect had a self-inflicted gunshot wound in his abdomen.
Officers immediately worked with local emergency medical services to rush the wounded man to Vanderbilt University Medical Center by Life-Flight helicopter.
«Read the rest of this article»

Clarksville, TN – This Friday, October 21st, 2016, the Clarksville Police Department's Tact Team and Negotiators will be conducting a joint training scenario at the old Jenkins and Wynn building on College Street from 9:00am to approximately 1:00pm.
It will appear to the public that the teams will be responding to an actual incident. Signs designating the area as a temporary training site will be placed near the training scenario.
Written by PIO Natalie Hall
Clarksville Police Department

Clarksville, TN –  Sergeant Ferguson has worked with the Clarksville Police Department for 19 years.
He is currently the District 2B Day Shift Sergeant. His home precinct is CPD Headquarters, and his area of responsibility is downtown Clarksville (Riverside Drive, Madison Street, the area surrounding APSU, Providence Boulevard, Lincoln Homes, Summit Heights, etc).
The Clarksville Police Department showed an immediate interest in Sgt Ferguson after he graduated from Austin Peay State University with a degree in Police Science and Administration. He went through their testing process in January of 1997 and was hired in February of 1997.
«Read the rest of this article»

Clarksville, TN – Clarksville Police Officers have arrested two men for the shooting death of Charles Whitfield that occurred on College Street about 1:00am Friday morning. The arrests, which were about thirteen hours apart, were made in different areas of the city.
The Clarksville Police Department TACT team executed a search warrant in the Timberlake subdivision shortly before Midnight last night. Tequan Evans, 18, was arrested on a warrant for Criminal Homicide. He is currently being held without bond in the Montgomery County Jail.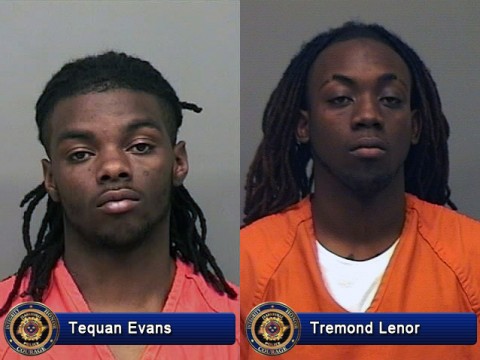 «Read the rest of this article»

Clarksville, TN – Sunday, November 23rd, 2014 at 5:57pm, an unknown subject called dispatch from a blocked phone number. The information the caller gave dispatch initiated a Clarksville Police Department TACT Team response at an address on Archwood Drive.
The CPD's TACT Team is called in when an incident presents a significant risk to law enforcement officers or the public. The call turned out to be a false report call. «Read the rest of this article»