Clarksville, TN – Clarksville Police Officers have arrested two men for the shooting death of Charles Whitfield that occurred on College Street about 1:00am Friday morning. The arrests, which were about thirteen hours apart, were made in different areas of the city.
The Clarksville Police Department TACT team executed a search warrant in the Timberlake subdivision shortly before Midnight last night. Tequan Evans, 18, was arrested on a warrant for Criminal Homicide. He is currently being held without bond in the Montgomery County Jail.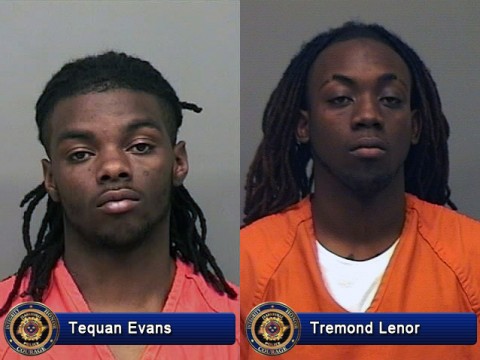 District One patrol officers surrounded a house on the 900 block of Commission Drive at about 1:00pm today.

Tremond Dinell Lenor, 19, voluntarily came out of the house and surrendered a short time later. Officers remained at the house to secure the scene for detectives. Lenor has also been charged with Criminal Homicide.

No other suspects are being sought in this case, but anyone with information about this shooting is asked to call Detective Chris Nolder at 931.648.0656, ext. 5341 or the TIPS line at 931.645.TIPS.
Tequan Evans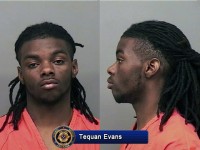 Name: Tequan Evans
Date of Birth: 5/ 14/ 97
Gender: M
Race: B
Address: 1881 Waters Edge Drive, Apt. A, Clarksville, TN
Arresting Officer: Christopher Nolder
Charged With: Criminal Homicide, 1st Degree Murder, 2nd Degree Murder
Booked Into: Montgomery County Jail
Bond: $0.00
Tremond Lenor
Name: Tremond Dinell Lenor
Date of Birth: 8/ 3/ 95
Gender: M
Race: B
Address: 2812 Cobalt Drive, Apt. A, Clarksville, TN
Arresting Officer: Christopher Nolder
Charged With: Aggravated Assault, Criminal Homicide, 1st Degree Murder, 2nd Degree Murder
Booked Into: Montgomery County Jail
Bond: $250,000.00
Sections
News
Topics
1st Degree Murder, 2nd Degree Murder, Aggravated Assault, Bond, Charles Whitfield, Chris Nolder, Christopher Nolder, Clarksville Police, Clarksville Police Department, Clarksville TN, Cobalt Drive, College Street, Commission Drive, CPD, CPD TACT Team, Criminal Homicide, Fatal Shooting, Montgomery County jail, shooting, Tequan Evans, Timberlake Subdivision, Tremond Dinell Lenor, Waters Edge Drive