Topic: Lovin' Spoonful Cafe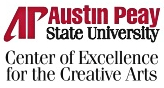 Clarksville, TN – Every November, on the Tuesday before Thanksgiving, the Austin Peay State University Department of Languages and Literature hosts a benefit reading that not only celebrates the written word, but also raises public awareness of hunger in the local community.
«Read the rest of this article»

Clarksville, TN – The outrageously prodigious comic and musical soul of 1930s Harlem lives on in the Roxy Regional Theatre's production of AIN'T MISBEHAVIN': The Fats Waller Musical Show, beginning February 11th.
 
Thomas "Fats" Waller rose to international fame during the Golden Age of the Cotton Club, honky tonk dives along Lenox Avenue, rent parties, stride piano players and that jumpin' new beat, Swing! Based on an idea by Murray Horwitz and Richard Maltby Jr., this rollicking, swinging, finger-snapping revue features such tunes as "Honeysuckle Rose," "Mean to Me," "Keepin' Out of Mischief," "This Joint Is Jumpin'," "I've Got a Feeling I'm Falling," and many more. «Read the rest of this article»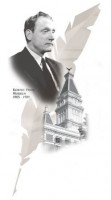 Where can you overhear a discussion of the war in '62 and learn that it's not Viet Nam being discussed but the War Between the States? Where can you find out a ghost may be lurking right down town in Clarksville? Where can you see tobacco leaves highlighted in the stained glass windows of an exquisite historic church?
The answer to all these questions is the Architectural Heritage Tour that is the first episode in the Sixth Annual Clarksville Writers' Conference.
Here's what you missed if you weren't on the tour conducted by Josh Wright. He co-chaired with Micki Daugherty this year's tour. Architect Wright gave a brief overview of each location to be visited during a presentation at the Riverview Inn where the group of 30 writers and history buffs met at 9:00am on Wednesday. «Read the rest of this article»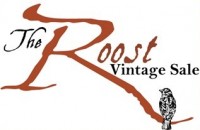 The Roose Vintage Sale is Clarksville's answer to all of those fabulous "occasional sales" happening too far away from us!   Most are held in a barn or out in someone's field, but we're going to use the space above ARTifacts—thus the moniker, "The Roost."
The Summer 2010 issue of Flea Market Style magazine addresses these sales as the events which draw crowds of record numbers in many communities. «Read the rest of this article»
Some people, carrying tureens and slow cookers, walk slowly into the APSU Morgan University Center, careful not to spill any soup. Others are a little more relaxed, rushing up the stairs to the MUC ballroom with loaves of fresh bread and packets of plastic bowls and spoons. A very select few seem distracted. They're the ones who keep glancing into battered composition notebooks or stacks of loose paper filled with poems or short stories or essays.
It's the Tuesday before Thanksgiving, and this strange parade of pilgrims can mean only one thing – Bread and Words. For the last 15 years, the University's languages and literature department has hosted the benefit reading and dinner, showcasing the school's literary talent while raising money for the local Loaves and Fishes soup kitchen.
«Read the rest of this article»
Blanche DuBois brings her Southern charm to historic downtown Clarksville.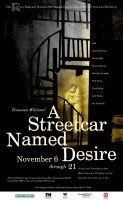 CLARKSVILLE, TN – Feel the air sizzle with tension as sparks fly. A STREETCAR NAMED DESIRE opens at the Roxy Regional Theatre Friday, November 6th.
Blanche DuBois arrives by streetcar at the home of her sister Stella. Claiming to have taken time off from her job as a teacher, Blanche settles in, oblivious to the strain her presence will cause Stella and her husband, Stanley. Stanley Kowalski, an alpha-male in every way, is a force to be reckoned with.  As Blanche's stories of her genteel Southern lifestyle begin to dissolve beneath Stanley's brutal scrutiny, she attempts to elevate herself through greater self-deception. «Read the rest of this article»
This is the first of two stories on the History Conference held at APSU. Part II will run on Friday.
History. On its own, it's not a very exciting word. However this past weekend, February 28th, saw HISTORY given star power treatment at Austin Peay State University as the Theta Delta Chapter of Phi Alpha Theta Honor Society and the university's History and Philosophy Department sponsored the 2009 Regional Conference.
Austin Peay's Theta Delta Chapter of Phi Alpha Theta National Honor Society hosted the 2009 Regional Conference this past Saturday at Austin Peay State University.
The conference provided both undergraduate and graduate students of history with the opportunity to gain valuable experience by presenting their ideas in a friendly academic setting. Topics from a broad range of subjects including regional, American and non-American topics were welcome. Films and documentaries produced by the students were also accepted.
The Morgan Center was the hosting site for the one-day event which saw sixty students from fourteen universities and colleges give presentations of such diverse topics as Women's History, Rome and Byzantine, Indian Warfare and Removal, Religion and Race, Gender in the South, Barbary Pirates, the American Revolution, WWI, Reform and Regulation, WWII Dilemmas on the Homefront, Issues of Religion through the Ages, Struggle for Independence and Identity, US Military in Nontraditio0nal Roles, American Revolution: Sea Battles, Labor and Economy in Nazi Germany, "Blues, Baseball and Black Male Identity," Post WWII US Politics, and American Influence Overseas: Two Perspectives, Direct and Policy. «Read the rest of this article»