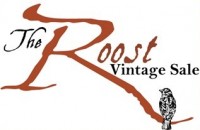 The Roose Vintage Sale is Clarksville's answer to all of those fabulous "occasional sales" happening too far away from us!   Most are held in a barn or out in someone's field, but we're going to use the space above ARTifacts—thus the moniker, "The Roost."
The Summer 2010 issue of Flea Market Style magazine addresses these sales as the events which draw crowds of record numbers in many communities.
For our sale, we've gathered the funky style of Jane Burney, owner of Lovin' Spoonful Cafe here in Clarksville.
We'll also enjoy the classically creative talents of Tabitha Tackett of LilyBelle Antiques. Tabitha currently displays at ARTifacts and plans to bring together even more of her amazing finds for this show.
We're also proud to host Gina Luker of The Shabby Chic Cottage.  Gina has an incredible eye and the ability to turn the ordinary into the "extraordinary!".  What a treasure we've found in her!
Then, there will be items offered by Paige King, owner of Hodgepodge.  Paige has been gathering items for quite some time—things that are too large for her booth in ARTifact—as well as some creative endeavors, including revived vintage slips to be donned as funky new dresses.
We intend to make this a monthly event, so save the first Saturday of each month for a day of fun for you! Vendors are still needed for future events, so visit our website for application information.
So here's the skinny:
May 1st, 9:00 am – 4:00 pm
oh, and it's FREE!