Topic: Tax preparers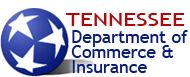 Nashville, TN – Tennessee Department of Commerce and Insurance (TDCI) Commissioner Julie Mix McPeak warns Tennessee residents to avoid falling prey to scammers and phony tax preparers ahead of the April 15th Tax Day deadline.
"Scammers and fraudulent tax preparers use the rush of tax season to prey on people by using fraudulent practices designed to steal money and personal information," McPeak said. "Tennesseans should be vigilant in protecting their personal information during this time of the year by educating themselves before hiring someone to prepare their taxes." «Read the rest of this article»
Nashville, TN – As part of National Consumer Protection Week, the Internal Revenue Service today reminded Tennessee taxpayers to be on the lookout for scammers posing as the IRS and scammers posing as tax preparers with special knowledge about getting IRS tax benefits.
"Tax scams come in many forms, but two of the most common involve fake IRS emails and dishonest people promising 'free' government money," said IRS spokesman Dan Boone. «Read the rest of this article»
Washington, D.C. – Using the latest technologies, the Internal Revenue Service offers multiple avenues for you to get tax information. If you have a smartphone, we have an app! If you like to watch videos from your phone or computer, we have dozens of helpful YouTube videos…and, of course, follow us on Twitter.
Check out how the IRS delivers the latest tax information, initiatives, products and services through social media.
http://www.youtube.com/watch?v=xBMr2XQ9aXw «Read the rest of this article»
Washington, D.C. – The Internal Revenue Service is taking steps to stop tax preparers with criminal tax convictions or permanent injunctions from preparing tax returns. This is just one of several recent moves to improve the quality and oversight of the tax preparation industry.
More than 700,000 tax preparers nationwide have registered with the IRS and obtained Preparer Tax Identification Numbers (PTINs). This nine-digit number must be used by paid tax return preparers on all returns or claims for refund. Paid preparers must renew their PTINs annually to legally prepare tax returns. «Read the rest of this article»
Washington, D.C. – If you pay someone to prepare your tax return, the IRS urges you to choose that preparer wisely. Taxpayers are legally responsible for what's on their tax return even if it is prepared by someone else.
So, it is important to choose carefully when hiring an individual or firm to prepare your return. Most return preparers are professional, honest and provide excellent service to their clients. «Read the rest of this article»
Higher Standards to Boost Protections and Service for Taxpayers, Increase Confidence in System, Yield Greater Compliance with Tax Laws
WASHINGTON – The Internal Revenue Service kicked off the 2010 tax filing season today by issuing the results of a landmark six-month study that proposes new registration, testing and continuing education of tax return preparers. With more than 80 percent of American households using a tax preparer or tax software to help them prepare and file their taxes, higher standards for the tax preparer community will significantly enhance protections and service for taxpayers, increase confidence in the tax system and result in greater compliance with tax laws over the long term.
To bring immediate help to taxpayers this filing season, the IRS also announced a sweeping new effort to reach tax return preparers with enforcement and education. As part of the outreach effort, the IRS is providing tips to taxpayers to ensure they are working with a reputable tax return preparer. «Read the rest of this article»

IRS Launches Tax Return Preparer Review;  Recommendations to Improve Compliance Expected by Year End
WASHINGTON — IRS Commissioner Doug Shulman announced today that by the end of 2009, he will propose a comprehensive set of recommendations to help the Internal Revenue Service better leverage the tax return preparer community with the twin goals of increasing taxpayer compliance and ensuring uniform and high ethical standards of conduct for tax preparers.
Some of the potential recommendations could focus on a new model for the regulation of tax return preparers; service and outreach for return preparers; education and training of return preparers; and enforcement related to return preparer misconduct. The Commissioner will submit recommendations to the Treasury Secretary and the President by the end of the year. «Read the rest of this article»