Topic: The Bound'ry

Clarksville, TN – A holiday tradition returns to the corner of Franklin and First! John McDonald is Ebenezer Scrooge in the Roxy Regional Theatre's production of Charles Dickens' "A Christmas Carol", December 10th – December 20th.
Under the direction of Tom Thayer, Dickens' classic tale of Christmases Past, Present and Future meets such holiday standards as "Deck the Halls," "Silent Night," "God Rest Ye Merry Gentlemen" and more.
«Read the rest of this article»

Clarksville, TN – Come join the Roxy Regional Theatre as they celebrate 32 years of live entertainment on the corner of Franklin and First in downtown Clarksville with an evening of great food, fine art and splendid theatre. On Saturday, September 13th, the 32nd Anniversary Roxy Gala will kick off the Roxy Regional Theatre's 2014-2015 season of professional live theatre.
The theatre's annual fundraiser will begin at 6:00pm with Harvest Manhattans, compliments of MB Roland Distillery, and a silent auction of diverse and original works by area artists.
«Read the rest of this article»

Clarksville, TN – You'll be dreaming of a "Plaid" Christmas this holiday season when the boys from Forever Plaid return to the Roxy Regional Theatre!
At first Frankie, Jinx, Smudge and Sparky aren't sure why they've returned to Earth for another posthumous performance, but a phone call from the heavenly Rosemary Clooney lets them know that they're needed to put a little four-part harmony into a discordant holiday.
«Read the rest of this article»

Clarksville, TN – Flying cows, killer rabbits, beautiful show girls and rude Frenchmen are just some of the oddities and marvels which will be on hand to usher in the Roxy Regional Theatre's 31st season with the opening of the Tony Award-winning musical comedy sensation Monty Python's "Spamalot" on Friday, September 13th, at 8:00pm.
Lovingly ripped off from the classic film comedy "Monty Python and the Holy Grail," this hysterically irreverent musical retells the legend of King Arthur and his Knights of the Round Table as they embark on their quest for the Holy Grail. But before they can find the grail, they're taking a little side-trip to the Queen City!  Ooh-la-la!
«Read the rest of this article»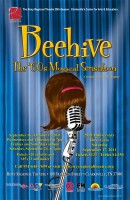 Clarksville, TN – Five hot women, a six-piece band, 50 outrageous costumes, and 15 cans of hairspray a week can only mean one thing … BEEHIVE: The '60s Musical Sensation, opening the Roxy Regional Theatre's 29th Season on Friday, September 16th, at 8:00pm.
 
The Chiffons, The Supremes, Tina Turner, Aretha Franklin and Janis Joplin are just some of the '60s pop stars singing such favorites as "One Fine Day," "My Boyfriend's Back," "Will You Still Love Me Tomorrow," "It's My Party," "Proud Mary," "Respect," "A Natural Woman," "Me and Bobby McGee" and many more!
 
Created by Larry Gallagher and directed by Tom Thayer, BEEHIVE features Ashley Brown, Brianna Hertzberg, Troy Jackson, Kendall Anne Thompson and Heather Trabucco, backed by a live six-piece band. «Read the rest of this article»