A minimalist production of Tuesdays with Morrie opened this week at the Roxy Regional Theater with breathtaking performances by its two stars: Jay Doolittle and Joe Sonenshein. The finely woven connection between both men manifests itself as a tour-de-force performance of Broadway caliber.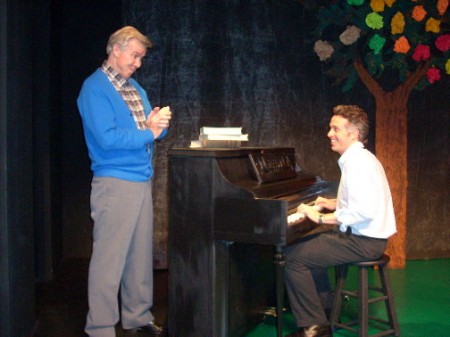 Morrie (Jay Doolittle at left) with Mitch (Joe Sonenshein) in the Roxy Regional theatre production of Mitch Albom's Tuesdays with Morrie.
Doolittle as the aged professor Morrie Schwartz and Sonenshein as student/author Mitch Albom loom larger than life even as they navigate the simplest truths of living, dying and what it means to love. The play is based on real-life Albom's memoir of the same title. This is adaptation of another medium at its finest and our actors capitalize on that.
At first view, the stage is fairly barren: a piano and stool, a wingback chair and side table. A tree in autumn radiance. That's it for the set as the play opens with flashbacks of the college relationship between the men: teacher and student. The graduation pledge to "stay in touch" — like many such promises — vanishes as quickly as it was made, lost in the mindless priorities of a working life and a life spent working. Only when Morrie, diagnosed with Lou Gherig's Disease, is interviewed on national television do the intervening sixteen years fade to black. Joe visits his old friend, tumbling into a pattern of Tuesday visits that become a last classroom.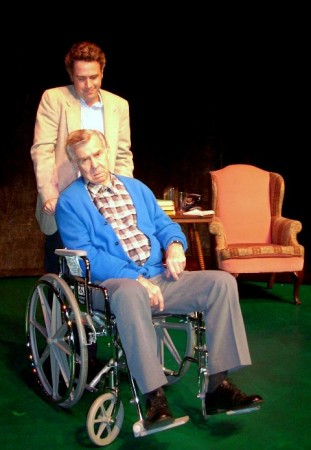 As Joe confronts his own life, as Morrie moves ever closer to death, time is measured by medical need: first a walker, then a wheelchair, and finally, in the last moments, the deathbed. Along the way are conversations, wit and simple wisdoms, one-liners that lace the building sorrow with bright notes of laughter. The set seems almost irrelevant as the faces, the emotions of the characters emerge; their faces, their movements large and small, dominate the stage. Morrie becomes that "someone" in everyone's life who has been lost. Morrie is that final goodbye.
What is most impressive is Doolittle's absolute mastery of the character. Not just the dialogue, but manner and movement, the nuance of facial expression, even the lack of movement while huddled in the wheelchair or the bed, was perfection. This is by orders of magnitude veteran actor Doolittle's finest performance. When Morrie wept, the audience wept with him.
We remain equally fascinated by the transitions within Joe. Sonenshein as Joe is the perfect counterpoint, evolving from the me-centered Type A through an almost feminine nurturing of his old friend, the kind of feelings and commitments many men are afraid to make, or at least, to make public. This entity called Tuesdays with Morrie is sheer, raw power delivered from one small stage.
Anyone who has been ill, or who has dealt with progressive, debilitating illness and death knows the nuance all too well. It is too familiar, and no matter what span of time has passed, the experience comes racing back to our consciousness. In the first of several heart-wrenching scenes, Morrie tries to taste his favorite egg salad, a fumbling frustrated effort in which weakened hands can barely hold the fork, much less dig into the container and actually eat. A single tiny taste defeats him, and Morrie asks Joe to put it in the refrigerator for later. And much later, Joe finds the fridge full of uneaten containers of his professors favorites.
That's when the first sniffles echoed through the audience. That's when the first jolt of memory hit many viewers. As the play moves forward in a passage of time, Morrie weakens, and Joe begins to reassess what his own life is all about. It's obvious that they have hit the right mark when the men in the audience are sniffling and reaching for Kleenex. This production quickly became one of the few times in my decades-long career as a critic that I have watched so many men whipping out a handkerchief to wipe away tears. Bridges of Madison County, Iris and Field of Dreams — both films –were the other three memorable stories that made grown men cry.
Director Tom Thayer gets full marks for craft and style, knowing where and how to move his characters and how to pace dialogue for maximum effect.
Tuesdays with Morrie — the book — is a masterpiece. Tuesdays with Morrie — the play and the Roxy production — are also masterpieces. See it, but be prepared for both laughter and tears. Bring a box of Kleenex to pass around.
The show runs through June 7. For ticket information, call the Roxy box office at 931-645-7699.