'On the Road in America' is an occasional column of chance, of serendipity, written in the course of my travels.
Simon Pearce is a treasure tucked away in the lush forested hills of Vermont, just past the famous and spectacular Quechee Gorge, a chasm that cuts through the mountains with a ribbon of ancient water.
Simon Pearce is all about glassware, dinnerware, accessories, and gourmet food. The shop in Quechee is the hub fed by workshops, potters, glassblowers, weavers and other artisans who fabricate the luxury items showcased in this refurbished mill. Ambient lighting, the rich patina of polished wood, the sparkling reflection of light on crystal is warm, welcoming. Inviting indulgence.
A fan of Simon Pearce's heavy, lush hand blown goblets and tumblers, the bowls and serving dishes, I was surprised to see a slimmed down version of their glass wine goblet, a thinner surface and lighter heft (a response to popular demand) — a perfect sphere for the new line of Simon Pearce wines.
We browsed the showroom, eyeing the soft ripples that mark hand blown glass before moving into the realm of finely burnished wooden, platters, salad utensils polished to a satin sheen and silken smoothness. The effect lent a golden haze to the entire display.
In strategic settings throughout the room, tables were set using the products sold, tables designed for presentation and comfort. Simon Pearce also sells linens and fine woolen throws, as well as a highly selective collection of furnishings.
Downstairs we can view glassblowers at work; samples of the glass molds are mounted in the entry way and in nooks and crannies of the building.The highlight of the visit, though, is dining.
The building is a former mill, built on the granite boulders at the head of the Quechee Gorge. On the lower level, glassblowers work at creating the many designs in glassware available in the shop on the main level.
Inside the restaurant, diners can sit beside huge arched windows overlooking frothing water rumbling over a tumble of rocks. To dine on the sheltered patio is to dine sitting over the waterfall, with a view of a classic covered bridge.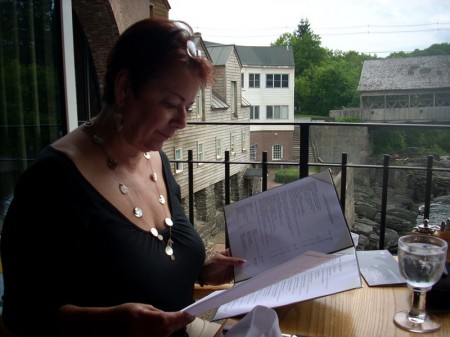 Whether dining inside, with a view of the landscape through high arched windows, on the deck with its iron fencing (and folding windows that can be pulled closed in inclement weather without altering the view), atmosphere is everything. On the deck, if you are early enough to garner an "outside table by the rail," you dine on the top of the waterfall, with a soft rumble of whitewater spilling over granite boulders. Ironically, the roar of the water is a buffer, a kind of white noise that shuts out peripheral conversation but is not loud enough to drown out the conversation at one's own table. The wait staff and wine stewards are more than happy to take your photo against this scenic background.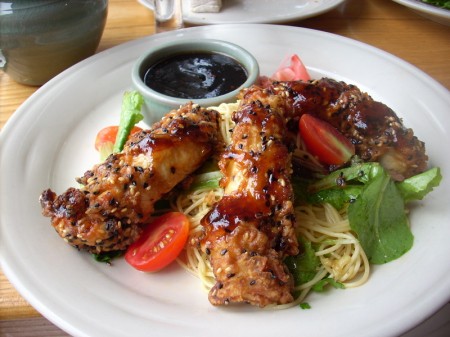 After perusing the menu (which I have committed to memory), I chose an old favorite, Sesame Chicken, a crisply deep fried chicken with sesame crust served over cold noodle salad with pickled ginger and a sesame dipping sauce. My companion opted for what he calls the "bottomless" Shepherd's Pie, a deep dish version of spiced meat and vegetables topped with a deep golden crust.
I cut into my chicken, dipped the succulent white meat and crunchy coating into the piquant sauce and tasted, closing my eyes as I let the flavors play over my palate. Perfection. My companion cut into his Shepherd's Pie delicately, watching the steam seep out, savoring the aroma and the taste. Perfection again.
Accompanying the dinners is a refillable plate of earthy whole wheat or oat breads, and petite scones, light, delicate and ready to absorb a pat of whipped butter. The coffee is rich but not overbearing, a lighter taste soften with the addition of cream. I'm not a coffee drinker as a rule, but when In Quechee (or any place that uses pure spring waters for their brews), I cave in and down multiple cups. The water is crisp, clean pure, and perfectly chilled with crystal ice cubes.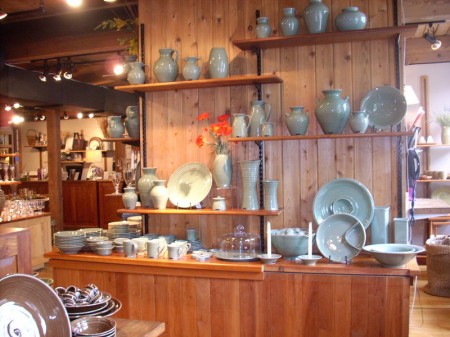 The meal is served on dinnerware sold in the showrooms: hefty hand blown glasses, rich ceramic dinnerware. Crisp white table linen adds a clean, colling touch.
On Sundays in late summer and fall, the field just a few hundred yards north of the restaurant is the site for balloon launches; on one summer evening, my friends and I watch dozens of hot air balloons fill up and soar out over the green mountain landscape.
We linger longer than we should over coffee, decline dessert (because we've eaten so much of that wonderful bread and sweet whipped butter). Too soon it is time to leave, and let others have a chance at our table over the waterfall.
Simon Pearce at Quechee (off Route 4 off I-89 north from White River Junction, VT), is one of those romantic places perfect for either an easy light lunch or a very special occasion. If you are traveling Vermont, it is one place that is a "must," possibly a once in a lifetime "must," for lovers of atmosphere, fine dining and home accessories of the finest quality.
The Simon Pearce Restaurant is located on 1760 Quechee Main Street in the Historic Mill in Quechee, Vermont.
Phone is 802.295.1470. Lunch is served daily from 11:30am-2:45pm; Terrace Menu: 2:45-5pm; Dinner: 6-9pm;Sunday Brunch: 11am-2:45pm. A second location, On the Brandywine in West Chester, PA 1333 Lenape Road, Route 52 North, West Chester, PA, phone: 610.793.0948, is also open with the same attention to quality and detail.