The Chamber of Commerce, Leadership Clarksville and the CDE sponsored a public forum at the CDE building in Clarksville on July 15, with Democratic Tennessee Senate District 22 candidates Tim Barnes and incumbent Senator Rosalind Kurita fielding questions about policy and platforms. The primary race will be held August 7.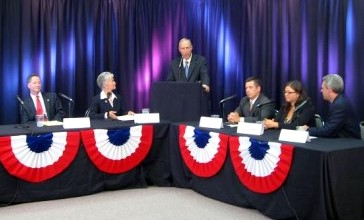 Senator Kurita and Tim Barnes presented opening and closing statements before fielding questions from panel members Frazier Allen, Britney Campbell and Jay Abertia.
In the opening statements, Kurita, who has a nursing background, said that she has worked to bring services to seniors in their homes. She has worked for expansion of the HOPE lottery scholarship to include older ages, has supported tax relief for disabled vets and a freeze on taxes for low income seniors.
Barnes said that he has been led to this challenge in order to serve the public. He doesn't believe in cutting 'back room' deals to serve his own needs, implying that Kurita was working toward a bid to become governor. He's mindful of not losing the confidence of friends and cited his loyalty, caring attitude and responsiveness to people.
In wrapping up their statements, Kurita said that she "helps people." Barnes said he's "a work horse rather than a show horse."
To the question of what should the State of Tennessee provide during both good and bad economic times, Kurita answered with 'health care, education, jobs, balanced budget and no new taxes.' Barnes said that we must maintain our roads as well as health care, insuring those who are uninsurable, and education.
Barnes cut into Kurita, saying that she did not vote for a #9 lottery scholarship bill which would have helped more people get scholarships. Kurita stomped on that comment, charging that Barnes was deliberately misinforming people. She said a bipartisan bill was passed that gave more to scholarships and if he "had done his homework" he would know that.
They both said they stand for health care and education. Barnes cited Kurita as taking money from the Lottery to build energy efficient schools. She said yes, she did and added that the payoff will come back to the city from that. She also favored extending the lottery to include older people returning to school.
How to deal with illegal aliens? Barnes: Get the Feds to do their job. Kurita: I have a serious problem with just wishing it on the Feds. Stiffen fines on people who hire them. Documentation and tax paying should be required of all working peoples.
Kurita said she has a bipartisan track record. Gridlock stops us whereas civil conversations that is open to all solutions help us solve problems. Barnes said there's a time and place for compromise; one needs to look for solutions. Some things shouldn't be compromised, but relationships should be maintained.
Stance on income tax?
Barnes: On the record for opposing a State Income tax. It does not draw businesses here. Kurita: On the record as opposing a State Income tax. She has been under a lot of pressure to vote for one but her district made it very clear that they did not want one. She said she is a strong enough fighter and can resist it.
Energy resource question. Barnes: invest in ethanol; it will boom our economy 10-15 years down the road.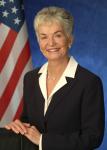 Kurita: (deep breath) Energy resources are a most important issue. She is the only Senator chosen to serve on the Governor's energy resources task force. Get off of fossil fuels, use the Manhattan project. Use switch grass and woodchips here in TN. Why buy from foreign countries who hate us? There is a UT lab and another lab that is almost there with technology for us to use.
Kurita values energy resources, health care and education.
Barnes values education. And expanding the police force, which Kurita voted against.
Barnes: Work closely with local officials and market this area. Businesses need to know about our great schools and transportation. Change the limit of what we can pay on marketing.
Kurita: I changed that law this year; if you would have researched, you would have known. Develop the school system, get energy initiatives. We need to shine.
Energy incentives
Kurita. Tax rebate for purchasing programmable thermostats. Achieve independence in energy conservation. Barnes. At $4.00 a gallon for gas people are at the end degree that they can be squeezed. People will have to carpool. The State government cannot impact the cost of oil and gas. Take personal steps to conserve.
How will you stay in touch with your district?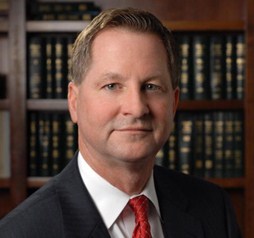 Barnes: That's the biggest complaint I hear about Kurita. My cell phone number is 931-801-3298. I will talk to you.
Kurita: That is an outrageous implication. We have helped 12,000 people. I call people personally. I hold town hall meetings; I run surveys in the paper. The things I have done are things that people tell me they want done.
For the state of TN Kurita has worked on disease awareness, greenways and hiking trails. For schools that have no recess she wants to increase physical activity to 45 minutes a day in elementary and middle schools. She's behind public service ads about obesity and the danger of smoking and non-seatbelt use.
Barnes: Public schools have no recess? That's news to me. Agrees that we need physical activities. He is in triathlons. He wants grants for more athletics.
A priority for Barnes is more money for APSU. He lives and sleeps with a lobbyist for APSU (his wife who teaches there).
Kurita: She goes to APSU and works in classes with students. Good jobs are increased by good education. She got the non-traditional scholarships for more students.
Kurita said the economy is weighing on people. We get good jobs through education. Takes a team to fix health care and she is involved civically in the community.
Barnes said people are worried about paying $4.00 a gallon for gas. The government can't fix this problem. Say yes to college, it is the hope for better jobs.
How to keep seniors in their homes?
Barnes: In home health care, he pushed it 2 years ago.
Kurita: That's a step we've already taken. Have to have good bookwork for these things. Real health care also involves helping with things like house cleaning. We have done it. This was the year it happened.
Do you vote? Kurita: Yes, consistently. Barnes did not vote for President in 2000. Why not?
Barnes: I don't recall that. I'm interested in politics; if I missed that year I don't recall and defer to Rosalind. Kurita was stopped mid saying, you don't remember if you voted for President of the US?
Should the school lottery be used for anything else?
Barnes: Kurita used lottery money to build energy efficient schools. Should have put that money into students.
Kurita: I voted to use Lottery money to build geothermal schools. The long term savings is that utility bills will stay low and we have efficient schools. We are building one school a year.
Closing:
Barnes: I see the sunrise from my porch. I can't take credit for making the sunrise. I see that kind of credit taking from my opponent. Voting for something is not the same as making it happen. I think she is ostracized by her own party. I think you should represent your own democratic constituency.
Kurita: I went to a town hall meeting in Erin where a Grandmother pleaded with me to help her injured army grandson to be sent here to Ft. Campbell. They were not able to help him where he was. My office did that for them. I work hard for people. My opponent throws hideous accusations about me, yet as an attorney he gets drunk drivers out of court and back on the road. He helps wife beaters get off scot free. Reevaluate this as you judge us. I have done my job; I take care of people. I am bipartisan. I listen to you.
Early voting is from July 18 through August 2
Before leaving the building I said hello to Senator Kurita. From first hand experience, I witnessed her handing over checks to Port Royal to help its Trail of Tears site, Dunbar Cave for interpretation and Wounded Warriors, a scuba diving group that helps wounded soldiers. She is pushing for the state to have more fuel efficient automobiles. She is high on the conservation evaluation of her.
I also said hello to Tim Barnes and his wife. Mrs. Barnes said that she works in the English Department at APSU. I was shocked that I have never met her before, but realized it is because I have never run into her at events run by the Center of Excellence for the Creative Arts. This center brings in authors and artists as speakers to APSU.  *see my comments below.
Going to my car I met Maria and Charlie Butler who said they are totally against Kurita because she passed the no smoking bill in TN. Since then Maria has lost a lot of customers in her 12-year-old business, Maria's Wagonwheel.