The Montgomery County Democratic Party honored two members for outstanding service to the party during their annual holiday gathering December 16 at the Smith-Trahern mansion.
John Ferguson was presented with the Nathanial Carter Award for his work during the 2008 election campaign. Ferguson, who was intricately involved in the operation of headquarters and the organizing of numerous political events, said he was honored to be receiving the award and said "others were more deserving, and that many individuals who were not present at the gathering had contributed as much as he had."
MCDP Chairman Gene Lewis was presented the Alice Byard Award, which he accepted on behalf of the party's executive committee.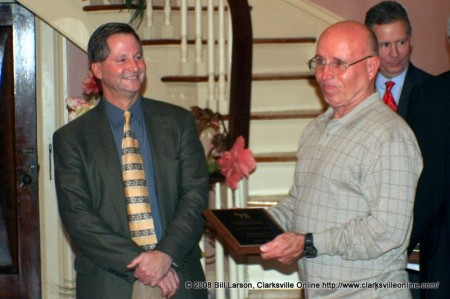 Senator Tim Barnes addressed the crowd, stating that he was "looking forward to January" (2009), when he officially takes office. Barnes talked briefly about the importance of building party support from the grassroots bottom up, taking issues and campaigns to the people of the county. With the right leaders at the state level, (the people) will see a difference," he said. He also gave kudos to the constant support of his wife, Linda, and to the "best campaign manager ever, Kim Smith."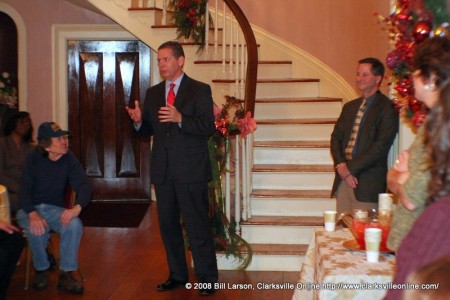 State Representative Joe Pitts voiced his pleasure in welcoming Barnes to the legislature in Nashville, and said he, and Barnes would continue their work "against the assault on the working families." Pitts encouraged people to look beyond themselves and their own needs and work for the greater good of the community.