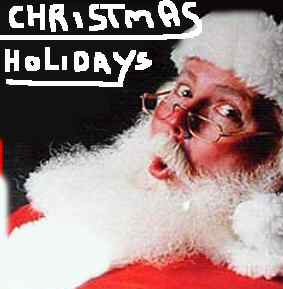 Can you believe Christmas is this week and 2009 will be here 12 days?
The Community Centers will be changing their hours and classes to accommodate the upcoming Christmas break.
All three community centers are now on extended hours from 12 noon until 7 p.m. Monday through Friday until January 5th.  On Saturdays, the centers will keep their regularly scheduled hours for operation.  This would be an excellent time to visit the weight rooms, racquetball courts, game rooms and computer labs which will also be open during the holiday schedule at all community centers.
Judo will not meet at the Crow Community Center at 211 Richview Road on December 23rd or 25th but will return on the 30th for class.  The classes will return to full session on January 6th at the regular time of 6 p.m. for youths and 7 p.m. for adults.
The Crow Center's Youth Indoor Soccer begins on January 10th.  The cost is $25 for eight weeks with the purchase of a $5.00 center ID card.  Class times will be scheduled for the different age categories on Saturdays from 10 a.m. until 2 p.m.  Call the Crow Community Center at 931-647-3071 to see how you can register your child for this program.
There are lots of holiday schedule changes at the Burt-Cobb Community Center on 1011 Franklin Street. Starting this week, Burt-Cobb Youth Basketball will take place during the afternoon hours Monday through Friday from 1 p.m. until 4 p.m. instead of the regular evening hours until January 5th.
Also until January 5th, the Adult Full Court Basketball will be on Mondays from 5 p.m. to 7 p.m. and the Men's Basketball League will play on Tuesday nights instead of Thursday.  Each coach has a schedule and players can contact their coaches for more information.
Burt-Cobb Volleyball will take place on Wednesdays from 5 p.m. to 7 p.m. instead of 6 p.m. to 9 p.m. until the New Year.
The only schedule changes to the Kleeman Community Center at 166 Cunningham Lane is with Volleyball on Tuesday, which will be from 6 to 7 p.m. and Open Gym will be nightly from 5 p.m. to 7 p.m.
All three community centers will be closed for Christmas, December 24th and 25th.
The Kids on Crafts after school program will be returning next year starting with the Kids on Crafts Winter Art Show on January 17th at the Burt-Cobb Community Center.  The art work will be judged at 11 a.m. with the public reception starting at 12:30 p.m.  Artist Awards will be given out at 1:15 p.m.  All students who participated in the fall Kids on Crafts after school program are invited to bring their families and show off their creative work.  The event is free and refreshments will be served.
The  program will also be taking a break for the holidays starting Monday, December 22nd.  The program will be back in session starting Monday, January 5th for the rest of the winter season.
The Christmas on the Cumberland event will be open until January 1st.  The event is open nightly from 5 p.m. to 10 p.m. Sunday through Thursday and 5 p.m. to 11 p.m. Friday and Saturday.  For more information on this event go to www.christmasonthecumberland.com or call 931-645-7444.
Santa and Mrs. Clause have already made their visits to McGregor Park and therefore have returned to the North Pole to get ready for deliveries this Christmas.  They asked me to pass along a very Merry Christmas to you all and they'll see you next year!