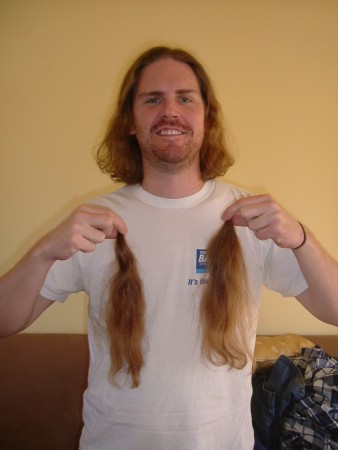 Today, I got a haircut.
Over the past five years, I have "harvested" my hair twice for the organization, Locks of Love.  Locks of Love provides hairpieces to disadvantaged children that have lost their hair due to a medical illness.
It takes 6-10 ponytails to make one hairpiece, and the minimum length is 10 inches.  Shorter hair is accepted but it is not used in hairpieces but sold to help offset manufacturing costs.  The retail cost of the custom, vacuum-fitted hairpieces start at $3,500 but Locks of Love provides them free of charge or on a sliding scale based on the family's financial need.  They also accept monetary donations, a great tax deduction.
Most any salon will do a "locks of love" cut.  Some beautician's do not charge for the haircut, and some do.  Some will mail the hair for you, others provide you with the materials to mail it yourself.  The locks of love website has a directory of participating salons, but you can do it yourself at home as well.
Its a great cause, and great reason for this Grateful Dead Head Pencil Pushing Desk Jockey to have long hair.  Seriously though, I truly do it for the children.