Party the Tennessee Trails way by taking a walk with us on New Year's Eve.  Meet at McGregor Park on Riverside at 9 p.m. tonight and walk around downtown with spry Tennessee Trail members, Suva (pictured in red coat) and Jack Bastin (white cap), who lead and follow the group.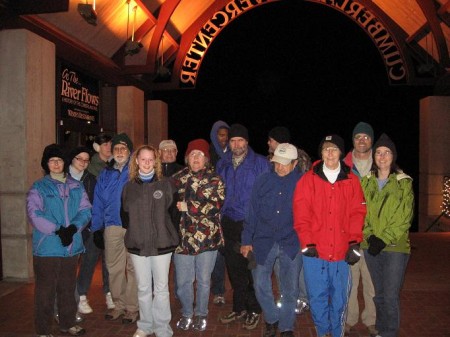 It's an easy walk but consider that we will go up stairs and uphill from the park.  Wear appropriate clothing.  No paper party hats required and no throw-up bibs needed.  This walking party enjoys being sober.
Ask Suva and Jack about the 8 mile annual hike that Tennessee Trails does the following New Year's day at Montgomery Bell Park.
About Debbie Boen
Debbie and her family moved to Clarksville slightly after the tornado of 1999. Debbie founded the group, Clarksville Freethinkers for Peace and Civil Liberties, in 2004. She participated in Gathering to Save Our Democracy, a group dedicated to obtaining free and verifiable elections in Tennessee. She has supported groups including the NAACP, Nashville Peace Coalition, PFLAG, Friends of Dunbar Cave and the Mountain Top Removal Series of Films and speakers. She participated as an artist in the ARTZ gallery group in Clarksville and won Best of Show, First and 2 Second Place awards for four of her sculptures. She won a voter's choice award for a performance at the Roxy Regional Theatre. She is a wife, mother and cancer survivor. She is always amazed at the capabilities of the human spirit, and the wisdom to find humor when there is none.
Sections
Arts and Leisure, News

Topics
McGregor Park