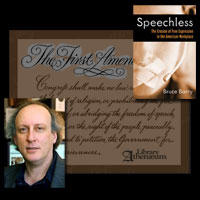 The Felix G. Woodward Library at Austin Peay State University, the APSU chapter of the American Association of University Professors, the APSU Faculty Senate and Phi Kappa Phi will present a Library Athenaeum presentation, titled "Freedom of Speech on a University Campus and in the Workplace."
Dr. Bruce Barry will conduct the presentation at 2 p.m., Tuesday, March 31, in the Woodward Library. Barry is the Brownlee O. Currey Jr. Professor of Management and a Professor of Sociology at Vanderbilt University.
Barry's presentation will address restrictions on freedom of speech and other civil liberties faced by adults at work, the law's lack of protection for basic civil liberties in workplaces and the complexity of free speech rights on university campuses.  Barry's talk will also deal with related aspects of free expression inside organizations and develop an argument that more expansive rights to free speech in workplaces and universities need not conflict with the pursuit of organizational goals.
Barry joined the Vanderbilt faculty in 1991 and was director of the Owen School's Ph.D. program in management from 1998-2004. He has taught at the University of North Carolina and Duke University and has been a visiting professor at the Melbourne Business School and the Queensland University of Technology in Australia. He is president of the board of directors of the American Civil Liberties Union of Tennessee and is a contributing writer on political, economic and social issues for the Nashville Scene and its blog on politics and media, "Pith in the Wind."
Barry's current research explores intersections between ethics and emotion and connections between social identity and judgments about unethical behavior. He studies the psychology of motivation in situations where individuals pursue long-term goals, spanning not just years, but decades.  Additionally, he is examining free expression and workplace rights from legal, managerial and ethical perspectives. His book on this subject is "Speechless: The Erosion of Free Expression in the American Workplace," published in 2007 by Berrett-Koehler.
For more information about this and other Library Athenaeum events, contact the Woodward Library, (931) 221-7346 or visit, library.apsu.edu/events/athenaeum.htm.