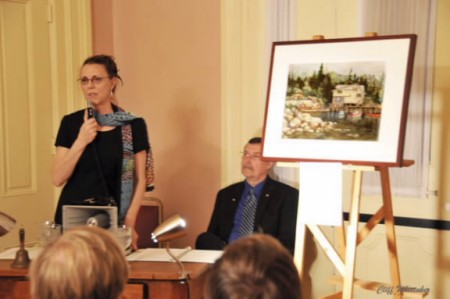 The Downtown Artists Co-Op will host their 7th Annual Art Auction at the Smith Trahern Mansion on Saturday, April 4, from 6:00-8:00 p.m.  The location is the corner of 1st St and McClure St and can be accessed from Riverside Drive or from North 2nd Street.
Tickets to the auction are $15 and may be purchased from any DAC member or at the DAC gallery located at 96 Franklin Street in historic downtown Clarksville.  Tickets will also be available at the reception on the night of the event.
This is the most important fund raising event of the year for DAC.  Local artists donate some of their best work for this event and collectors will have the chance to buy it at auction prices.  All proceeds go to pay operating expenses for the gallery and the importance of this event cannot be overrated.
The first part of the evening begins at 6:00 p.m. with food, wine and a silent auction of smaller art works.  Participants will have an opportunity to enjoy good food and wine while they place bids in the silent auction and look over the art designated for the live auction.
The second event begins at 7:00 p.m. with the start of the live auction.  Many large, beautiful pieces of art will be spotlighted and the bidding action is expected to be spirited as the auctioneer's chant echoes throughout the mansion.